October 28 2010
Neighborhood Walks and the Missionaries of Charity
Mr. Singh's New Alipore B & B in West Bengal, India
Be the light that dispels the darkness…
(on a local billboard showing a flame of worship in preparation for the upcoming Hindi festival of lights, Diwali or Deepawali, which is their New Year's celebration)
Dear Friends,
While I caught up on some sleep this morning, Grace and Mark went for short neighborhood walk about 8 a.m.   The Kwality Bookstore and photo developing lab that Mark visited twenty months ago when he travelled to Calcutta on his own were already open for business.  Grace chose a color comic book about Mother Teresa for me at the local gift and bookstore.  She also watched a man bow (pranaam) and offer money (dakshina) to a deity at a small, open-air place of worship.
Mr. Das cooked their breakfast of scrambled eggs, chai, and toast.  Grace especially likes the strawberry jam because it tasted like bubblegum to her.  The guest house owner, Mr. Singh, appeared briefly from his residence upstairs.  He's lost a lot of weight since our visit ten years ago, and mentioned that he'd been sick.  I'd learned from Dr. Sen that Mr. Singh, a former hotelier, had received cardiac bypass surgery recently.  Many families who adopted children from the International Mission of Hope (IMH) orphanage where Dr. Sen worked have stayed at Mr. Singh's guesthouse over the years.  When the director of IMH, Sunil Prakash, left after a quarter of a century of service, this fine orphanage that cared for our daughter for her first five months closed down.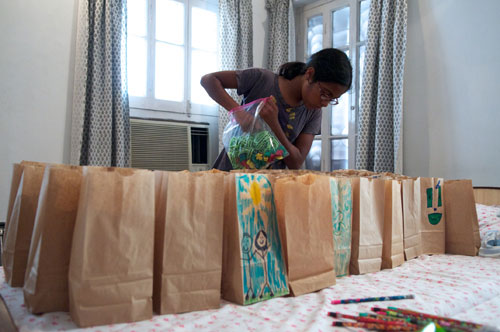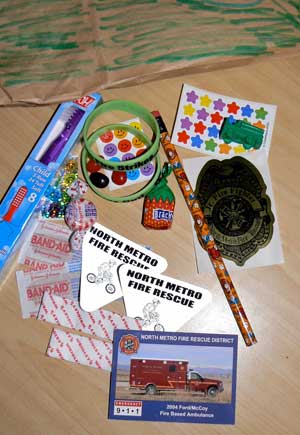 When I finally got up (sleeping medication can be a very good thing!), I opened the door to the other room that we've rented.  Leaning over one of the twin beds were Grace and Mark, busy filling fifty brown paper "goodie bags" that Grace had decorated back in Boulder.  Over seventy toothbrushes donated by our dentist, Bob Murphy, sat amidst firefighter patches, pencils with sharpeners, sticks of gum, and other treats.  Last year, Mark had come upon a "middle class slum" or colony and interacted with children who were very intrigued by his video camera.
After many positive interactions over several days, Mark was formerly thanked in writing by a member of the "colony's committee".  One of the committee directors also respectfully asked about a donation for repairing and improving their colony's one room temple.  Referred to now as "the neighborhood kids", Mark is bringing back several copies of photographs he took last year since he intends to visit them again this weekend.
For weeks before we flew to India, Grace had been feeling ambivalent for many reasons  One comment she shared with me was, "Sure, I guess I want to see where I was born, but I only want to stay a minute.  Then I want to leave." Summoning forth her courage again this morning, Thursday, October 28th, the three of us went for a walk in the direction opposite from Grace and Mark's earlier exploration.  This outing was much more difficult for Grace.  Understandably, she's been struggling with the rotting piles of garbage, fetid air, and visual ugliness that can accompany urban poverty, especially in cities with relatively few government services.  Grace had tried being positive earlier, saying, "I want to be in India – just not here in Calcutta."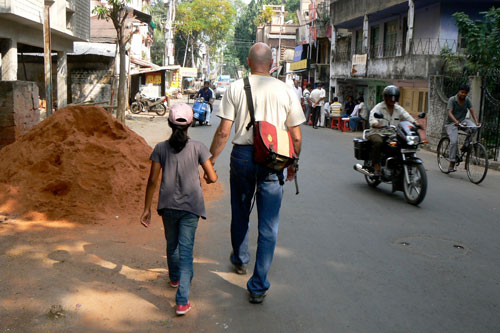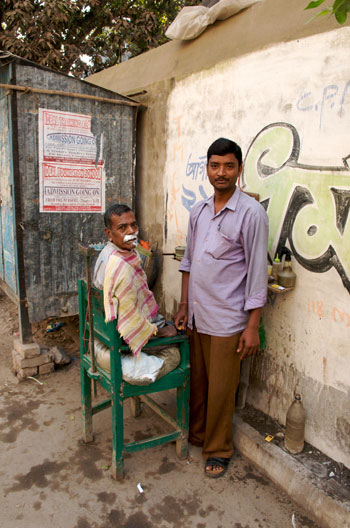 Calcutta is not a vacation hot spot, to say the least, and we received many glances and prolonged stares as we walked the back streets of New Alipore.  Some of the locals' curiosity may have been that a Western couple was accompanied by a Bengali daughter.  Chunks of meat hung in the open air, barbers deftly wielded straight razors as they shaved men in small outdoor stalls, and thin elders squatted by piles of sandals that they were mending.  Of course, rickshaws, diesel smells, loaded bicycles, and constant honking were everywhere.  A man's head and upper body disappeared into a large trash barrel and a woman in a shiny Western car put her palms together in prayer position as she bowed her head to the roadside shrine on the corner where they'd paused briefly.  During this family walk, we also saw piles of bamboo being lashed together to form temporary scaffolding for next week's festival of lights.  On that Indian New Year's Eve, Bengalis celebrate Kali Puja, worshipping the goddess  whose power can destroy inner obstacles such as attachment and greed).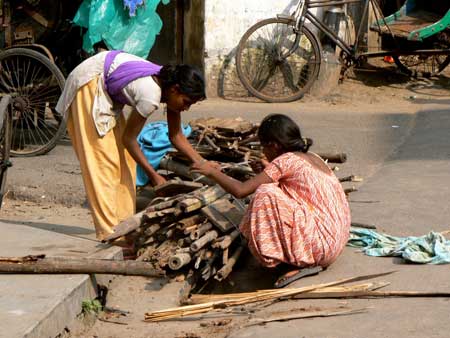 Unexpectedly, Mark came upon some of the neighborhood kids and enthusiastically greeted them with big smiles and cheerful hellos.  (It may be that not all of the slum children attend school.  Last year, Mark toured a public school that looked like a very old, abandoned building; a few of its dusty rooms contained only long benches and a chalkboard.  Understandably, there are many private schools that bypass the limited public education available in many parts of India.)  These youngsters didn't seem to remember Mark, and he hadn't brought the photos that might have jogged their memories.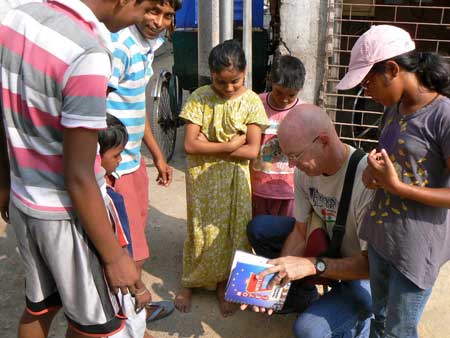 Our Visit to Mother Teresa's Motherhouse
Back at our guest house, we consoled our weeping daughter and had some sweet tea after the relatively brief but potent onslaught of our first family walk through the neighborhood.  About 2 p.m., Mr. Maity's small car pulled up, its front window decorated with a sticker of the elephant-headed Ganesh, respected as the remover of obstacles.  (On the car's back window was a Nike sticker!)  Through chaotic, blaring, congested streets, Mr. Maity veered his way to Mother Teresa's Motherhouse.
A smiling Indian woman in a blue and white sari greeted our car. joined by a girl close to Grace's age and a somewhat older woman.  Later, we figured out that none of them was actually associated with "Blessed Teresa of Calcutta's" Mother House.  We were led between dusty buildings to the simple foyer of this center where Mother Teresa was buried in 1997, and where her nuns continue to be trained, to study, and to worship.  (The infants, sick, and disabled that the nuns care for are in other locations.)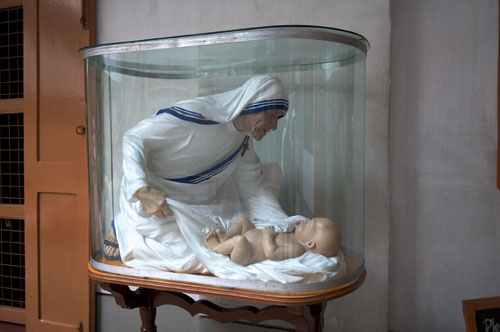 Inside a simple, small foyer, the gentle smile of a gracious, older nun welcomed us.  After looking around the open-aired courtyard with sculptures of Mother Teresa serving and a radiant Christ, we entered the room containing her above-ground marble tomb.  On it, two white candles shone beside a loving message about our spiritual oneness inscribed with orange marigold petals.  Traffic screeched and honked through the small street-side windows.  Framed photos hung askew.  Although the exhibit about Mother Teresa is closed on Thursdays, one of the Missionaries of Charity opened it after Grace offered our donation.  We also received three Mother Mary pendants ("the miraculous medals"), photos of Mother Teresa, bookmarks about how to pray, and leaflets about Mother Teresa's life.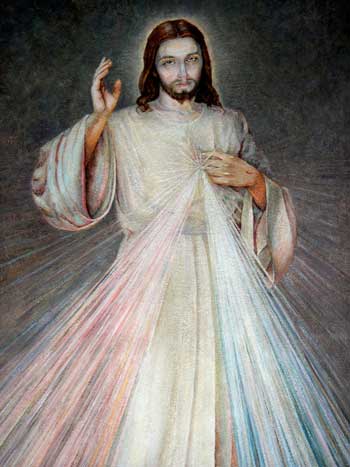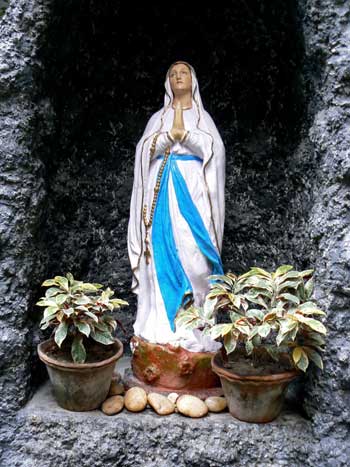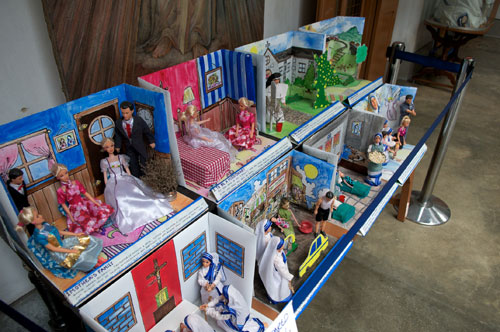 From a classroom next door, a group of nuns recited the Lord's Prayer as I made my way past photographs with captions and quotations.  It was moving to learn more about this Albanian woman who was intensely devoted from the time she was a girl.   Here are some of the quotes that I copied into a journal:
8-17-1928   …in a convent in Ireland "I have reached true happiness for which I was yearning so long."
1946 – 1948   "Let me go (to serve the poor in India)…to bring joy to the suffering Heart of Jesus."….in a dialogue with Jesus…Wilt thou refuse?"
1947-1948   "…to serve the poor in their humblest and most dejected and contempted members"
"…We are really contemplatives in the heart of the world.  For we are touching the body of Christ twenty-four hours… Give yourself fully to God.  He will use you to accomplish great things, on the condition that you believe much more in His love than in our own weakness."
"St. Augustine said, 'Fill your self first and then only will you be able to give to others.'  If we really want God to fill us we must empty ourselves through humility to all that is selfishness is us."
On August 17th, 1948, Mother Teresa left the Loreto convent to enter the world of the poor.  During 1948, she asked, "Please pray for me that I may have the courage to complete  my sacrifice.."
After viewing the exhibit, I joined Grace and Mark in the open courtyard,  From a balcony, an elderly nun wearing the Missionaries of Charity white sari with a blue border motioned repeatedly for us to come upstairs.  Hugging Grace close to her heart, she told us about her international life of service as a surgeon and nun.  At four times throughout our conversation, she looked deeply into Grace's ancient, black eyes, saying, "Be happy…Be happy", stroking our daughter's soft brown cheek with her wrinkled hand.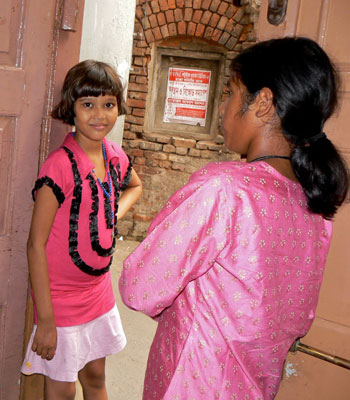 We left Motherhouse with more relaxed hearts, accompanied by the young girl with whom Grace had interacted earlier.  This reprieve from intense emotional angst was brief.  The confident woman in the blue and white sari reappeared with the other, less well-dressed woman who was missing some teeth.  This was the first time during this visit that plaintive requests for money were repeated.  Eventually, from inside our car's backseat, Grace handed the woman in the sari a 100 rupee note.  As she walked away, the other woman and child kept begging, and when I asked them to tell the first woman to share had been given, they repeated that she wouldn't share it.  The dynamics of the begging "relationship" can be complex and feel like a double bind.  This experience was confusing and painful, especially for Grace.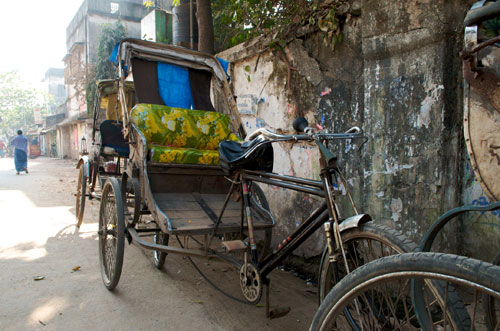 After a brief rest back at our guest house, during which Mark and Grace watched National Geographic in Hindi and English on a small television, we realized that Mr. Das was not going to be cooking us dinner, as he did ten years ago.   He showed us some restaurants nearby that might suit our Western digestion, and then receded into the shadows on his walk home.  The bright lights of a Domino's pizza place beckoned!  Cleanliness, air-conditioning, and big smiles welcomed us.  First, my tired elbow knocked over my orange Fanta soda pop, and later both Mark and Grace spilled theirs!  We had to laugh and somehow our mistakes and sticky mess (now scattered with red chili flakes) lifted our moods, especially Grace's.
On the way back to our bed and breakfast, we stopped into the Kwality Bookstore because I wanted to buy Diwali cards to give as thank you notes when we leave Calcutta.  The gregarious owner, Mr. Mahesh ("god of gods") Golani, immediately engaged us in spirited conversation.  Initially, he described the guest room in his home to Mark, and that he travelled to book fairs abroad.  Soon, he was rather amazed at my knowledge of the small deities lining his shelves, and told me that he was trained in palm reading and astrology.
According to Mr. Golani, I'm entering "a very good phase" of my life, and that he will help to market my book, Goodness To Go, throughout India!  "One million copies," he exclaimed as he raised an index finger high in the air!  He then invited us to his home, and inscribed a gift that he wanted me to have. The novel by a blonde American, Holly Hayes, is entitled Threads of Passion.  We purchased Diwali cards, a small notebook, and iconic deities before we left about 8 p.m.  Eventually, we slept.  Mark mentioned the following morning that his dreams were rather horrific.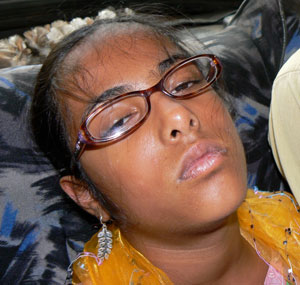 Grace notes commenting on her first day in Calcutta (10-28-2010)
I can't tell if I like India or not.  There is trash everywhere.  The slums aren't much better than the streets!
It is so humid here that the air is thick and dense.  I miss Colorado and even school.  I wish I could wave a wand and India wouldn't smell or be, well, trashed.
I am taking in a lot of stuff that is troubling.  I can only eat stuff at the guest house!  I just want to go home.  (It is awful here.)
…written on October 29th
…by the time this entry was sent via the Internet in early November, Grace had exclaimed,
"I don't know how the Indians do it.  I don't know how they can live there.  They're tough as nails and hard as stones."