October 30, 2010
The Neighborhood Kids and Mrs. Roy's Orphanage
Loving regard for the equality of all that lives is the true sign of a bodhisattva…(there is ) necessity for compassion, selfless service, and universal responsibility.
The Dalai Lama
Dear friends,
Namaste.  There are some differences that are making this visit to Calcutta, at times, somewhat less traumatizing visually, psychologically, and energetically.  What is most apparent to me is the near absence so far of maimed children begging; the film industry success of Slumdog Millionaire made those sorts of images more globally familiar.  Yesterday morning, Grace commented, "The Rescue Remedy lozenges help; they mellow your senses."  (I'd been sharing this homeopathic remedy for stress with her throughout the day.)  A stay in India is not easy, and can be a wild ride.  Hopefully, our sensitive young daughter hasn't been severely visually traumatized.   For the past ten years, frequent flashbacks of the wretched face of a woman beggar whose eye sockets were vacant, seemingly burned or gouged out, has haunted me.
There continue to be thousands of children in filthy rags picking through garbage, begging at car windows, and millions living and sleeping among trash heaps beside toxic streets.  Village girls as young as five have been sent to the cities to find employment, perhaps as maids or in brothels, and are often terribly abused.  As one practices loving regard for the equality of all that lives, heart can break open with the suffering it encounters.  Mind can try to avoid, ignore, or grey-wash the wretched external ugliness.  It may not be politically correct to use the word ugly. Mother India is ancient and rich in cultural diversity and spiritual wisdom.  Her peoples are beautiful, brilliant, resourceful, and resilient.  Although beauty may be in the eye of the beholder, loud, congested, polluted urban poverty is usually an ugly environment for my eyes.  I'll continue to look for ways to decrease the draining of my energy.
On a more positive note, the air used by Calcutta's tens of millions of creatures, from humans and canines to rats, is occasionally less polluted during this visit.  Although it's too romantic to describe it as pungent olfactory chaos, not every breath is like drinking down humid toxins.  Jet lag and a sore throat from the pollution were minor inconveniences in the past, but flu-like malaise that was so exhausting that I felt poisoned and nauseated did limit my stamina.  I've read that Calcutta's traffic problems had been the worst in the world.  Until this year, the tens of thousands of auto rickshaws and old taxis burned a noxious, semi-bootlegged fuel that spewed black fumes.  Apparently, 2010 was the deadline for transitioning to a more standardized vehicle that uses the cleaner burning fuel called liquid petroleum gas (LPG).  Millions, no doubt, are thankful for the somewhat cleaner air.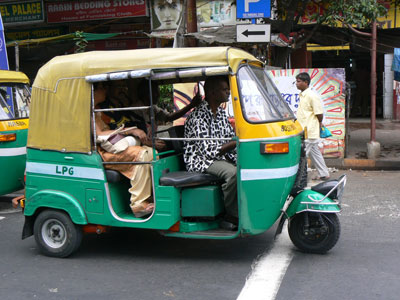 Back to the present.  Birdsong from banana and mango trees and the ceiling fan are the only pre-dawn sounds that I hear for a few moments as I write after a short night of sleep.  I relish the natural sounds and moments of silence.  Gradually, the hacking of deep phlegm being expectorated in the slum below our second storey, back bedroom are joined by the horns of vehicles a block away.  Early every morning before breakfast, and again at tea time (about 4 pm), Mr. Das brings us a tray of chai (sweet, milky tea) and Indian sweet biscuits.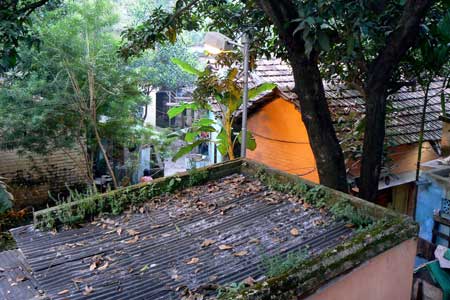 Before eating breakfast this morning, Grace, Mark, and I said grace by recognizing and appreciating some of the things that we are grateful for.  There truly is no end to the counting of one's blessings.  By 9 a.m., we were ready to walk to the alley leading to the neighborhood kids' "upper middle-class slum" that Mark visited several times in February of 2009.  There seemed to be fewer stares at us today, and the gates of the small roadside temple (mandir) that we visited ten years ago were unlocked this morning.
An unexpected and fortuitous synchronicity lit up the morning.  Mark and his friendly neighborhood translator, Mr. Sanjit Roy, recognized each other at the same moment, and their greeting was a joy to behold!  Sanjit is a 29 year old bachelor who works long hours in a call center.  Within moments, Mark was surrounded by smiling children in flip-flops, laughing as he showed them their photos.  Sanjit helped with the distribution of the copies that Mark had brought while I did my best with my small, low-tech camera to document the event.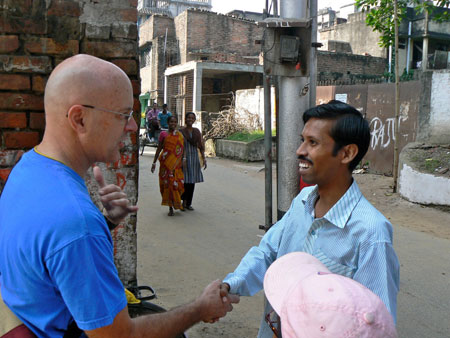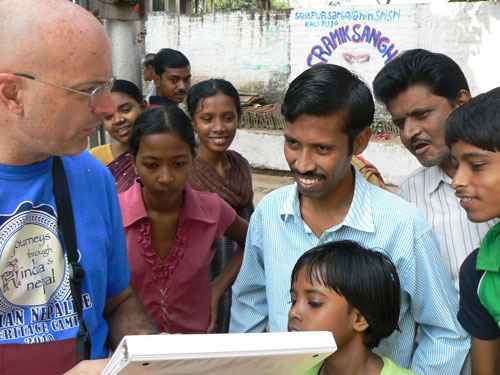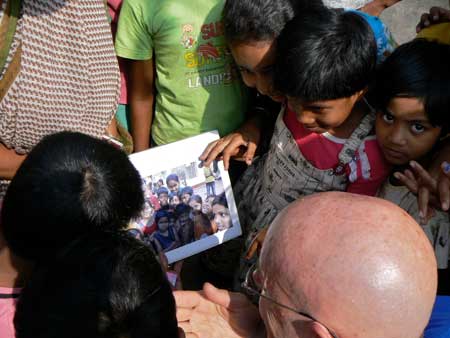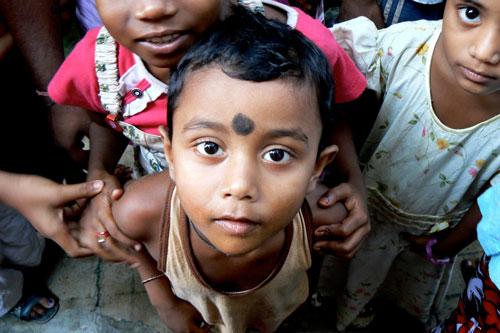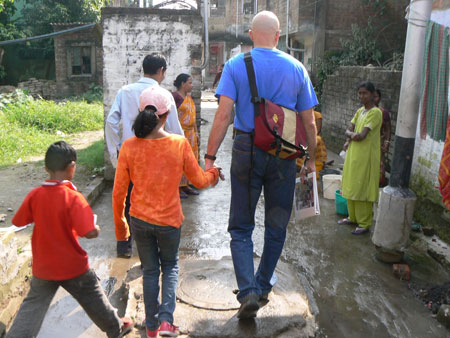 This small colony of about 46 dwellings built on an acre of government-owned land has, on average, about six people living in a 10' by 12' room.  Ash from cooking dung  is used on a finger by many of the people to brush their teeth.  (I'm wondering how our donation of tooth brushes will go over!)  Some of the recent upgrades here are eight new walk-in well structures with concrete steps down to a new underground water system that is available 24 hours a day instead of only two hours a day.  The treated river water from these narrow pits is now reportedly free from arsenic, which is definitely a good thing!  There are a few electrical outlets and lights, and an old television with some cable access in the colony's club house.  Many have cell phones.  Nearby schools have shifts to try to accommodate the growing population and, therefore, most local children attend classes for only half a day.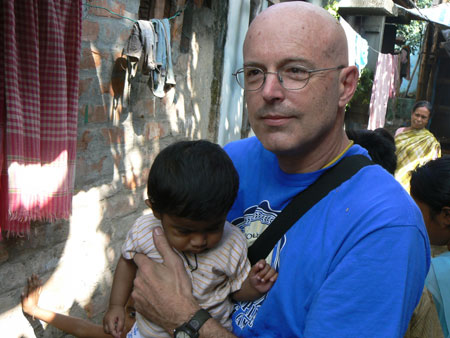 Mark enjoyed his warm welcome to the slum-colony thoroughly.  There were several animated reconnections, and Sanjit Roy interpreted when needed.  One grandmother asked if Mark had taken any photographs of her thirty-five year old son who had died recently from alcoholism.  This woman is raising three grandchildren, including her fourteen year old granddaughter, Priya Mondal, whose self-taught artistic talent attracted Mark's attention last year.  According to Sanjit, Priya's mother died, and her father ran off and remarried.  Mark would like to purchase a page of her art from a sketch pad that he gave her twenty months ago.  Although she firmly refused to accept payment and wants to give him this gift, we'll find a way to bring her more art supplies soon and continue to support the expression of her natural talents.  Priya is luminous and lovely despite the very challenging circumstances of her life.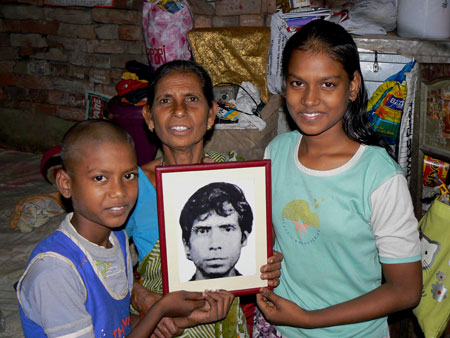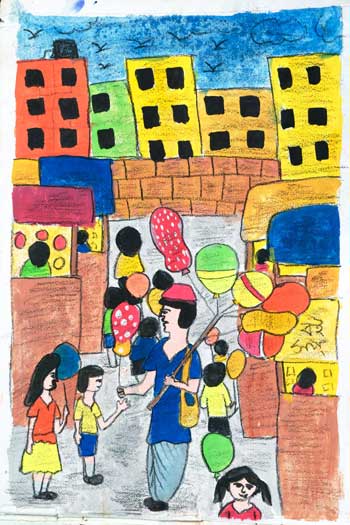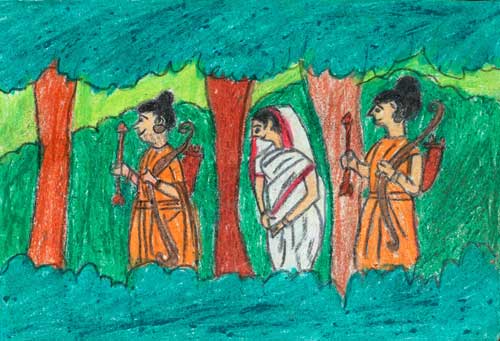 Om Shanti, Shanti, Shanti. May there be peace and peace and peace is a blessing of ancient Indian scriptures known as the Upanishads.  Go in peace.  At the slum-colony's alley entrance, we said farewells with smiles and hands in Namaste position.  I spread two fingers on each hand into the Western sign for peace and repeated Shanti, Shanti, Shanti. The children called back in response, seeming to understand that this hand gesture (mudra) communicated the message of peace.  On the walk back to the guest house, we encountered a headless chicken twitching as its blood dripped down the machete blade on which it was gutted.  No photograph needed, Mark reminded me!   Life's contrasts can be simply astonishing.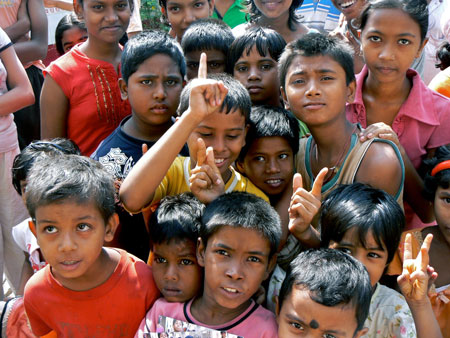 Mark's journal entry about this first of eight visits back to the local slum-colony:
Surprise!  Sanjit Roy was at the beginning of their alley when we showed up.  He was very excited to see me and I him.  As we talked, children I knew started to come up.  We soon started to look at the photos in the binder I brought.  Fran took pictures.  Grace wasn't sure what to think as we walked hand in hand down the alley towards the colony and the rest of the people I met last year.  It was a crazy scene as more and more kids and adults showed up to see what all the commotion was about.  I had a good time handing out pictures from last year's trip.  One woman asked if I had a photo of her 35 year old son.  He drank himself to death.  She doesn't have a good photo of him and hoped I did.  I told her we could look in my computer and see;  if I did, we could get it printed up.  The high energy was too much for Fran and Grace, so after 30 minutes we walked home, saying goodbye at the alley's end.
While Grace played briefly with Dhruvi upstairs, Mark and I reviewed the images captured by my old camera.  It's difficult to frame photos in the camera's view finder in bright sunlight and its slowness and erratic focusing can be somewhat frustrating, but we were glad to have any documentation of this reunion.  Soon, we changed clothes for our visit to the Hindustan Park district of Kolkata.  En route, we passed an informal cricket match and a wrinkled man squatting by the road as he skinned a chicken by tearing off its intact skin, feathers and all.  Efficient if not hygienic!  Mark has used the phrase that these incredibly hardy people can be as tough as nails.  How would we survive living on the streets of Calcutta?  It's profoundly humbling to consider for even a moment.  Also, I recall conversations with Indians working in the United States who said that Calcutta was the most intense city in India, and "too much" for them.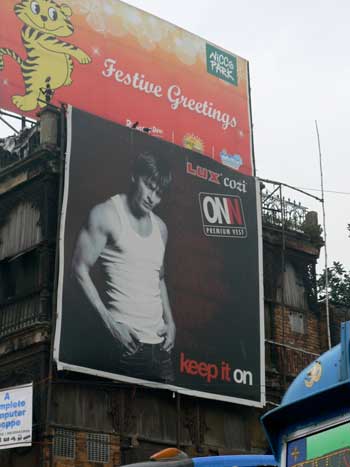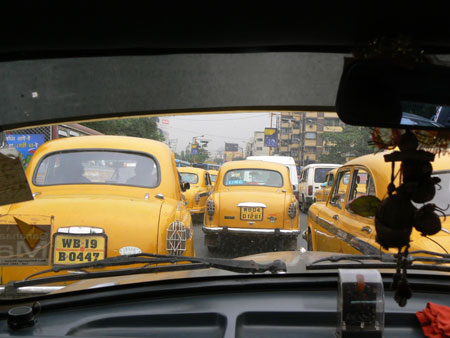 Thank goodness that Mr. Atanu Maity is a mighty fine driver!  One of many legacies left by the   British is that Indians also drive on the left side of the road.  About Indian drivers, Mr. Maity said, said, "Nobody is disciplined in their driving."  He may have meant that there was no external as well as internal discipline, since there do not appear to be authorities to enforce rules of the road.  I'm beginning not to flinch when our car is nearly hit multiple times during each outing or when we're nose–to-nose with several other vehicles in a "Mexican stand-off"!  Again, we passed decorated blue and yellow buses packed with passengers behind barred windows that had phrases like Incredible India or India is Great hand-painted on their sides.  In the midst of the loud chaos was a fenced off wide median with a sign that read "Land Beautification."   We sped past a cricket match, "Pay and Use" toilets, a mint, and endless street vendors, retail shops, and billboards.
Our Visit to Madhumita Roy's Orphanage Locations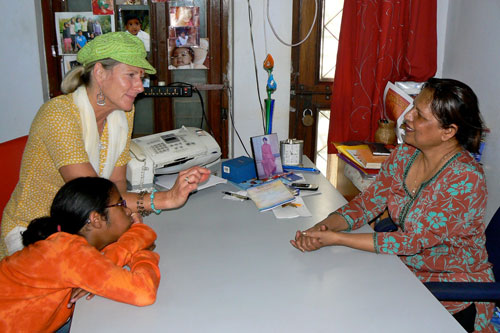 By 11 a.m. we arrived at Mrs. Madhumita Roy's orphanage, Little Feet, and guards downstairs had us wait briefly, turning on a standing fan for our benefit.  When we were cleared for entrance, we were greeted by a man named Deepak who remembered Mark from his visit last year, and we climbed the stairs to Madhumita's small operation.  Her husband died in 1994 and soon afterwards her sister-in-law also died.  Madhumita felt that it was her duty  (dharma or righteous action) to continue her family's service to orphaned children, and accepted the numerous  responsibilities of being its director. Constant fundraising, dealing with the restrictions of cumbersome government regulations and bureaucracies, and the on-going care of severely handicapped, special needs children are just some of the endless duties that she performs with equanimity and grace in her self-effacing manner.  I respect Anju's generous strength very much.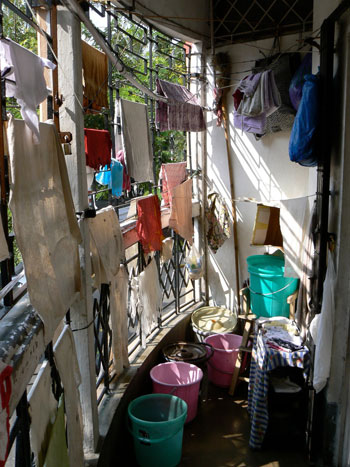 As we visited with Madhumita (Anju is a nickname) in her small office, staff members made me a cup of instant coffee and brought bottles of Pepsi for Grace and Mark.  Since the cleanliness of any surface is questionable, even bottled drinks are sipped through a straw.  Mark recalls this detail being included in the recent Hollywood movie, Eat, Pray, Love. We enjoyed playing with toddlers, holding some of the infants, and visiting with the caregivers.  We recognized the friendly smile of a nurse, Sabitri, from Grace's orphanage, International Mission of Hope.  She told us that Rohima Bibi, one of Grace's primary caregivers (masis), had found work at another orphanage after IMH closed and its long-time director, Sunil Prakash, moved to Broomfield, Colorado. (!)  It was Sunil who decided which IMH orphan would be matched with adoptive parents.  Clearly, Mr. Prakash played a key karmic role in our family!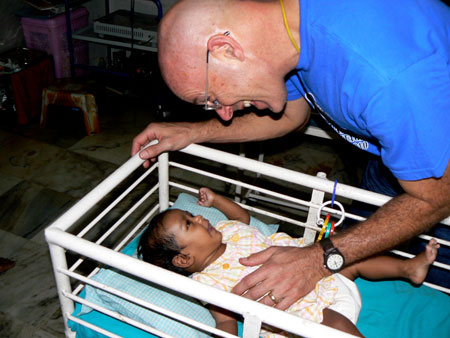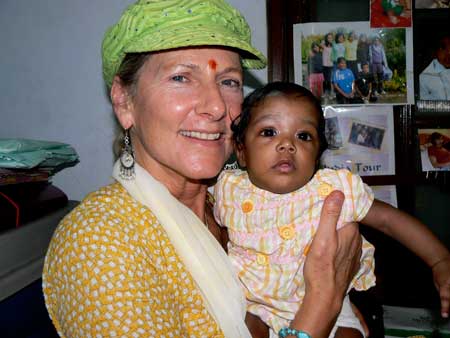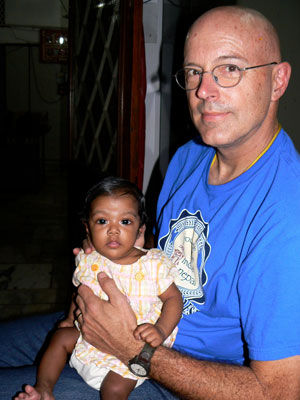 One office staff member, Subvata, walked with us to the other branch of Madhumita's orphanage that houses the special needs children who will likely never be adopted.  Subvata grew up in Calcutta, and answered several of my questions about things I'd seen.  When I asked what was meant by the signs saying "Report All Cases of Eve Teasing", she explained that it referred to men calling out disrespectfully to young women.  We might call them cat-calls.  Such things did not happen, Subvata reported, in her time of growing up in Calcutta, like it might have in New Delhi, she added.  In some ways, I felt like a giant clown in white and yellow Indian-style clothing – loose pants, long top, and dupatta (scarf) – as I strode through the streets of Calcutta in my new, size eleven neon yellow Converse high top sneakers!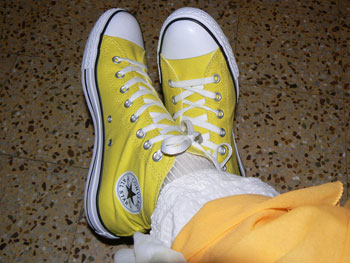 Down an alley with tattered, stained laundry hanging to dry, we entered the forlorn, barren, dark rooms of this orphanage location.  Although I interacted as cheerfully as I could with children afflicted with cerebral palsy, hydrocephalus, blindness, and mental retardation, I felt very weak after our short visit.  I offered my blessings, and gratitude (the Hindi word for "thank you" is dhanyavad) to the caregivers, and slowly made my way into the blaring street chaos where an iconic portrait of Lord Shiva was fading by the roadside.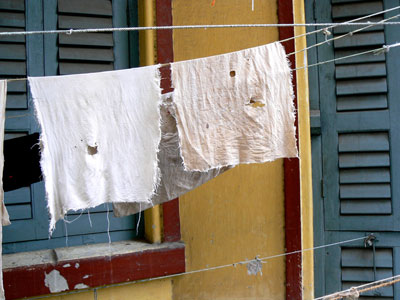 Back at Madhumita's office, our driver followed hers to another of the Café Coffee Day locations.  We're realizing that some of the survival benefits of the air-conditioning of Madhumita's car is not only relief from the humid heat but also from the draining noise and air pollution.  She insisted on treating us to our lunch sandwiches and "Icy Eskimo" frozen coffee drinks, and hugged me warmly as we left, saying, "We'll be friends for life."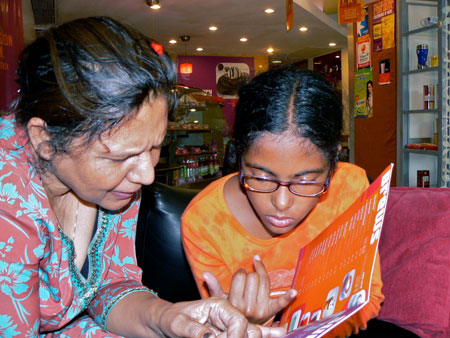 Revived again by caffeine and calories, Madhumita then accompanied us to a relatively upscale retail store called FabIndia.  The juxtaposition of the orphanage for disabled children with retail splendor was disorienting.  Madhumita helped us begin to navigate its unfamiliar organization before leaving for a meeting.  Upstairs, Mark eventually agreed that he would try on a dark green long shirt.  Shopping for clothing is not high on Mark's list of favorite activities, but he acknowledged that owning one Indian-style garment might be useful.  Grace chose some pretty Indian outfits (thank you to Trudy and Martin Ray!) as well as dangling earrings that looked like sparkling silver branches of tiny leaves.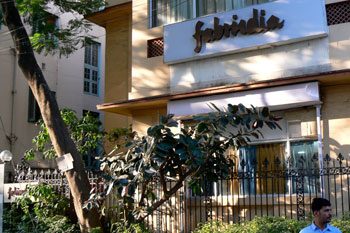 Unfortunately, Grace dropped one of the earrings after trying them on and it slid under the jewelry display case.  After a significant drama that included moving furniture, the earring was retrieved, but one of the leaf-shaped rhinestone "diamonds" had popped out.  Exhausted and disappointed, Grace collapsed in tears.  I sat holding her in my lap for quite a while, whispering phrases of understanding and support as best I could.  The lovely young saleswoman was distraught, and quickly produced a new packaged pair of the earrings that Grace had chosen.  Eventually, our beloved daughter gathered her courage and spirit, stood up, accepted the new earrings (which we already couldn't find immediately because they'd been placed in  brown paper bag!),  and we paid for our purchases.
After many expressions of gratitude, we retrieved our bags from the guard at the front door and gave Mr. Maity the 20 rupees (Rs) that we owed for the parking space.  Giant billboards of gorgeous pale models in elegant necklaces suitable for a empress's coronation hung above open gutters.  A towering image of a high-tech wrist watch was advertised as a Celebration of True Success, and other billboards told that something (Kingfisher beer?) or someone (the sultry, handsome, muscled Indian model?) was The Emperor of Good Times. Just the wild array of signs everywhere can  overload optic nerves!
Back in our rooms, all three of us took naps from about 4 p.m. to 7 p.m., at which point Grace ate pizza delivered to Dhruvi's family upstairs and I started tonight's hours of travel-blog writing.  Mark visited with Dhruvi's mother, Maleka Singh, one of the guest house owner's four children.  Maleka has worked in social services for many years, and is now employed by Children's International.  She asked Mark many valid, clarifying questions about our plans for Goodness To Go and the vision of eventually developing Shanti Sanctuary near Calcutta.
Grace attempted her first international sleepover, but eventually left when she found the upstairs rooms too dark for her comfort.  It was after midnight before we were all in bed, and again slept only five to six hours.  For the first time, Grace slept in the other twin bed in my room where I've been writing late on our lap-top computer.  Tonight is the first time that we've heard the loud, rather alarming booming sounds of the (fire) "crackers" that have become a notorious feature of the traditionally quieter festival of lights before the Indian New Year of Diwali.  We've seen government signs trying to limit the use of these somewhat frightening noise- makers that encourage citizens to Celebrate puja (worship) with lights not sound.
Grace notes about our third day in India…
Today we went to see my Dad's friends, the "Neighborhood Kids".  They remembered him after almost two years!  They were like a swarm of bees and mom was the big hit because she had a camera.  After the kids, we had to meet a woman named Madhumita.  Madhumita showed us her orphanage.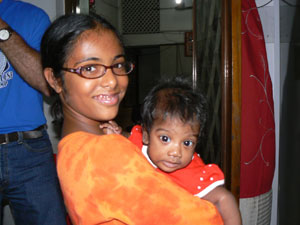 There were two babies dad and I really liked.  The baby I liked was a 3 month old girl in a red dress.  The one dad liked was (I think) a month old girl in a blue, red and yellow dress.  After that, we went to a clothing and household items (store).  We kept dropping things!  Once we got home, dad and I took a 3 hour nap and then I had dinner with Dhruvi.  It wasn't a really great day but it was OK!