November 2, 2010
Child In Need Institute ( CINI) and Dr. Samir Chaudhuri
Do not regret growing old; it is a privilege denied to many.
(hanging on an office wall at CINI, embroidered by a U.K volunteer in 1985)
…my pride is from the life-throb of ages dancing in my blood this moment.
Calcutta's Nobel Laureate Rabindranath Tagore
Dear Friends,
Namaste.    America's mid-term elections are today, and we're thankful for the opportunity to have mailed in our ballots before flying to India.  You may want to skip the next few paragraphs if the Tea Party, roused by Rush Limbaugh and Sarah Palin and funded by oil billionaire brothers who'd prefer to be completely "free" of most government services, is your cup of tea.  Taxes are the price of citizenship.  While many continue to trust that President Obama is a thoughtful, brilliant man of dignified integrity who assumed the "globe's greatest office" at one of the worst possible times, it is obvious that the mood of many Americans is angry impatience.
I'm not a political analyst, but it seems that in such complex times, it's too easy to simply blame or destructively distort.  Also, it's alarming to realize the tens of millions of dollars that are made each year by many social and political commentators whose simplistic negativity seems fueled by cynical disrespect for the intelligence and basic goodness of human beings.  Perhaps it's time for a great hiss in the sneering faces of the Rush Limbaugh's of the world.
As a dual citizen of Canada and the United States visiting India, I am very grateful for the opportunity to be able to return soon to the clean and relatively safe state of Colorado.  I have great respect for the remarkable tenacity and democratic vision of those who forged the United States.  However, many feel that this vision is becoming cloudy, weakened by murky forces lurking in our shadows.  As Aldous Huxley warned in Brave New World, we need to stay awake and vigilant, or our attention can be distracted by endless entertainment, swamped by excessive information, or lulled to sleep by sensory pleasures.  It seems that we need to remind ourselves daily that the treasure of true freedom requires constant vigilance.
As a teenager, I read about differences between freedom and license.  Convoluted political processes need to come into the light where everyone can see how our representatives are elected.  If the transparency of secret bribes and financial "donations" given by corporations and special interest groups is not mandated by law, money will be the dictator in this democracy.  Sunlight, we all know, is a great disinfectant.  The integrity of inspired politicians whose pockets are not deep can be worn down by the constant fund-raising that is required in a strangulating system of loop-holes.
Clearly, it is very difficult to be immediately effective as a new, visionary leader who is beginning office strait-jacketed and shackled in a deep swamp.  As an article in The Economist said recently, "It was the Republicans, after all, who oversaw the tax cuts, the entry into two wars and the financial collapse that are the source of most of America's gigantic deficit."  There are many kinds of gigantic deficits, as well metropolis of Calcutta, in a country rich with computer programmers, we have had difficulty finding Internet access.
We apologize that these blog entries won't be available until we're back in the relatively efficient ease of the United States in early November.  Scanning a local, English-language newspaper, we've learned that President Obama will be visiting India about that time, having a "private" dinner with the Indian president and seventy of his closest colleagues, advisors, and friends.  The CEO of General Electric, Jeffrey Immelt, will join President Obama to push their hosts and its military to import more American-made products.  While China rattles its economic fist,  India is another massive, growing market despite the crushing poverty of millions.  Although it is the world's largest democracy, India is also an ancient, exceedingly complex culture.  It will not allow itself to be reeled in, as has been said, like some great, useful fish.
Yesterday was our longest, and, at times, the most difficult day so far.  Even in the midst of a dark Calcutta slum dwelling, it felt impossible to comprehend the magnitude or intensity of the misery.  This morning is a new day, and was, for Mark and me, the highlight of this journey, even as it contained deep moments of anger and despair.  Showered, rested, fed, and revitalized, we climbed into Mr. Maity's dark green taxi at 7:15 a.m..  Just around the corner from our guest house, we again saw groups of men trying to push a big city bus decorated India-style full of passengers through an already congested intersection.  As we sped past, we noted that the driver's attempt to pop-start the engine using the clutch was not successful.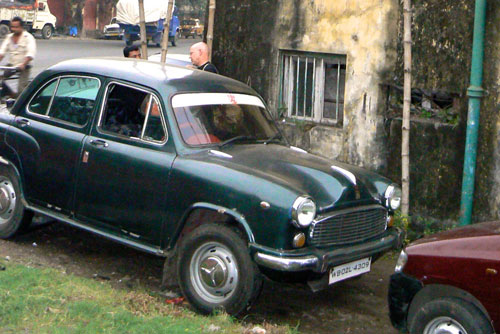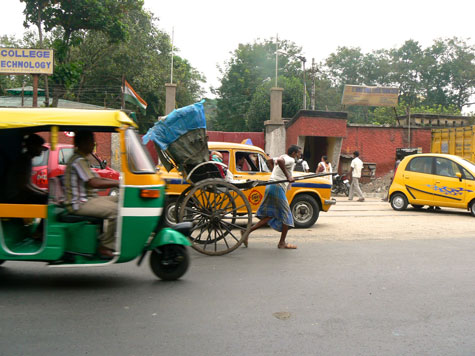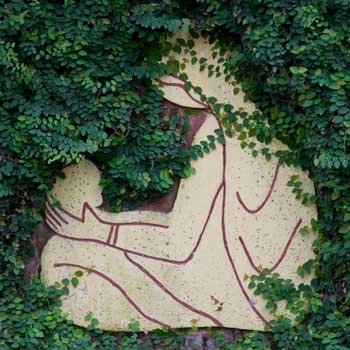 We were on our way to CINI, an acronym for Child In Need Institute. Its relatively new logo is Help the Mother Help the Child.  Its lovely, relatively quiet grounds with a tree-lined pond were just south of the sprawling urban chaos.  Again, thirty-five year old Mr. Maity's twenty years of driving experience were appreciated as he maneuvered along Diamond Harbour Road. Just past a glaringly pristine, gated private hospital with a large sculpture of a man painted gold, we turned down a narrow alley crowded with dozens of vendors and hundreds of pedestrians.  I thought of Noah Levinson, the director of Calcutta Kids, as we approached the international headquarters of CINI.  Noah has profound respect for Dr. Chaudhuri, referring to him as his teacher and hero.
Understandably, Noah and many others are very frustrated with the inconceivable disparity between the super-rich and the extremely poor in this complex country.  (Recently, an Indian multi-billionaire built a 400,000 square foot high-rise mansion for his family.)  Far too often, economic development of impoverished regions around the world is a lucrative business for many.  Banks that offer micro-loans to the poor have made millions for their directors and stockholders.  Rarely, more than a fifth of a declared budget, even in transparent, honorable programs, directly reaches the intended recipients.
Noah is enthusiastic about collaborating with Dr. Chaudhuri to implement and monitor a continuum of child health programs  from pregnancy through age three.  There is growing evidence that a child's health is affected by their development as a fetus which is turn is influenced by the health of their parent's environment.  These two inspirational public servants have an all-day meeting planned for tomorrow.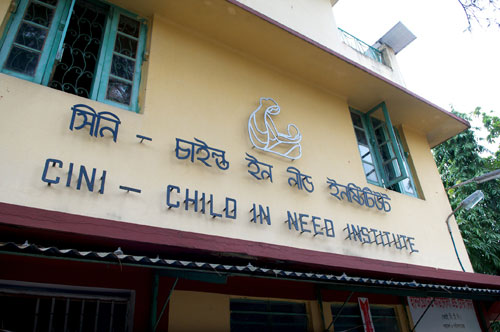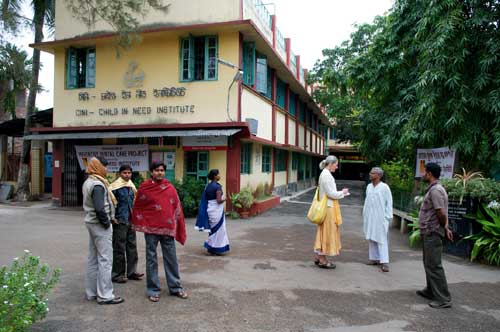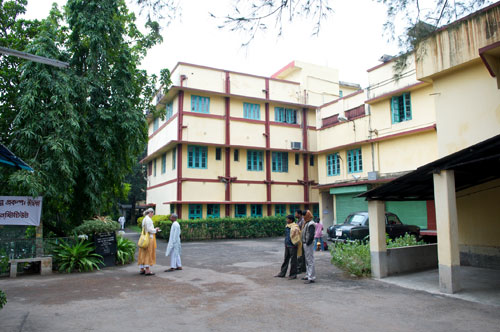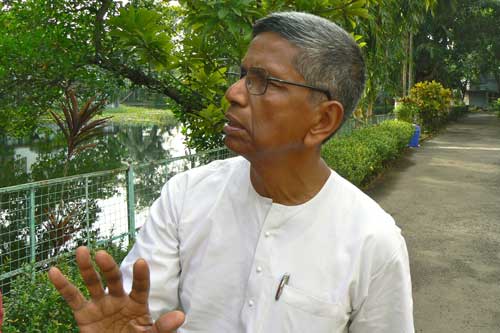 We were welcomed into the Child In Need Institute's sunlit compound, and were thankful to inhale deep breaths of relatively clean air.  Near the pond was a sign that read Every child is a sacred gift of God to mankind. Soon we had the good fortune the meet the gracious humanitarian, Dr. Chaudhuri (pronounced Chowdree).  Dressed (always, I've been told) in beautifully pressed white pants and kirtan (long shirt with a band collar), he greeted us warmly and was especially delighted to meet Grace Shanti.  Her orphanage physician, Dr. Sen, has also worked in one of Dr. Chaudhuri's immunization clinics.
One of Dr. Chaudhuri's daughters, Anjali, is fourteen and is currently attending school in Italy, living with her mother, Dr. Elina Riggio.  Dr. Riggio has a PhD in Urban Planning, has worked for UNICEF, and knows that the model of "Child Friendly Cities" works.  The Chaudhuri family, which also includes an eighteen year old daughter, lives about half the year in Italy and the other half in India.  Dr. Samir Chaudhuri shared that many wealthy Indians are "blind to the poor", and, like nearly every democracy, that there are "corrupt votes" in national elections.  A great deal of fundraising is required to sustain CINI, even though 80% of their budget is donated by Indian citizens and their government.
After being trained as a pediatrician and starting his public health service, Dr. Chaudhuri founded CINI in 1975.  During the next two hours, we learned about several of CINI's 150 locally sustainable, empowering programs that uplift millions of lives with an annual budget of only five million dollars.  At one point during our conversation, tears flowed down my cheeks with gratitude for the natural goodness  that radiated from him.  The Sanskrit word for something or someone that is good or auspicious is shubha.  At its root isshubh, a syllable that means "to shine".  Dr. Chaudhuri is shubha.  It was an honour to be in his presence.
When communities support and take responsible ownership of development programs, their behavioral changes and dignified empowerment are sustainable.  Self-help groups or cooperatives are especially effective if they combine education with economic opportunity.  Refinement of the conceptual basis of CINI's model is gradually changing all of their programs into Child and Woman Friendly Communities (CWFC).  Dr. Chaudhuri reminded us "not to be tied to how many people benefit from your service"  and shared that his "drive is to do good, to turn every activity of my life to service."  He believes that Hinduism is a philosophy, not a religion, and clearly is not interested in accumulating financial wealth, but letting this resource flow to do the greatest possible good.
One of CINI's community-based programs helps to prevent trafficking of young girls by nurturing communities.  Although the government initiated the Integrated Child Protection Services (ICPS) in 2009, it is poorly implemented.  Trafficking is usually only spoken about in whispered secrets, and community support is needed to monitor vulnerable families.  CINI workers visit communities regularly, looking for families who are at risk of trafficking their daughters.  Some sell their twelve year old daughters to traffickers from other states in India.
By putting the arms of community support around destitute families, fewer girls are sold to traffickers.  Dr. Chaudhuri said that every poor girl is vulnerable to being trafficked, and the "sordid truth" is that grinding poverty and illiteracy often lead to sexual and physical abuse.  "Education is the key to liberation," he added, "but the best is not given to the girl child."  Stating that his own fathers' biggest gift to him was the opportunity for an education, Dr. Chaudhuri feels that staying in school is the number one prevention for girls at risk of being trafficked.  Developing alternative income, such as through self-help groups, is also very helpful.
If an abused girl runs away, police will return her to her family if it is safe and will be monitored by CINI.  If not, CINI works with the government to provide short-stay homes for these runaways.  With its decades of proven efficacy and integrity, CINI is able to influence government policies.  It also supports the children of sex workers in four red light areas in and around Calcutta.  Education helps these children imagine alternative professions, and coaching (tutoring) centres and safe houses meet other needs of these children who are often very ostracized.
In Dr. Chaudhuri's experience, attitudes only change with community development, and he has found that boarding schools, especially those that do not provide vocational training, generally do not effect ongoing attitudinal change.  It takes patience and time to build mutually respectful relationships with community members that develop the trust required to provide ongoing education and expand programs.  In virtually every culture, there are some practices and attitudes that need to be changed, especially those involving gender bias and regarding children as workers rather than cherished learners.  Unfortunately, many families have come to regard it as acceptable that only one of their five children is fed.
Our co-host, Mr. Abinash Gine, has been Dr. Chaudhuri's right hand man for over thirty years.  As the assistant director, Abinash is the program coordinator for over 150 projects run by CINI's four Bengal centres.  During our tour of the CINI compound, we visited a small ICU-like room with IVs for severely malnourished infants.  A great deal of community education is required to increase awareness of, and dispel dangerous myths about, adequate nutrition for young children.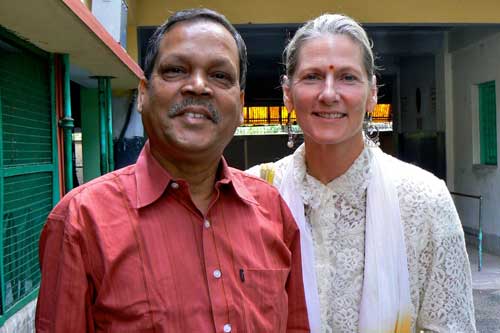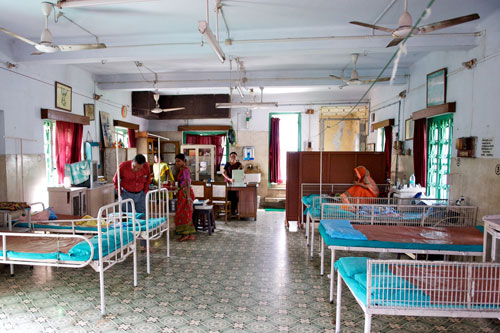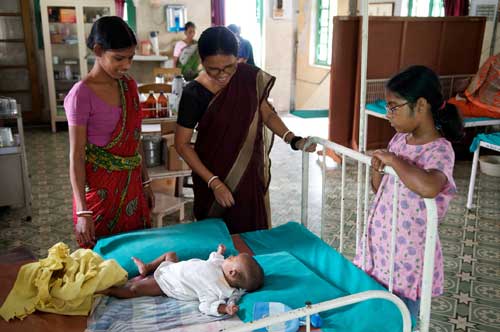 Across from the Malnourishment Centre was a small structure housing a tremendously beneficial program to enhance child nutrition called the Nutrimix Social Business.  From what I've begun to learn, the development of sustainable approaches to improving the nutrition of impoverished people has many, inter-related elements to consider.  Protein is key to healthy child development.  Sadly, some corporations have recognized that there are ways to make huge profits from supplying food to the world's hungry millions.  The French company, Plumpy'nut, is one example.  I've heard that they've been banned from West Bengal.  Hopefully, CARE and other aid organizations that purchase Plumpy'nut protein packets are investing in sustainable programs that increase community employment opportunities and use local food sources whenever possible.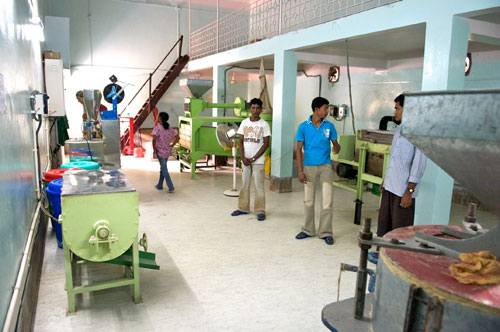 I recall the first time that I came across this problem.  In 1979, while teaching in a rural Jamaican high school, I learned that the Nestle's food company was marketing their infant formula around the world as being preferable to breast milk.  Predictably, poor mothers began mixing excess water to extend the expensive powdered formula, and their supplies of breast mild decreased.  Infants suffered.
The notion of "medicalizing" food can be dangerous.  Local foods are integral to cultures around the world, especially in India., and food production provides many jobs.  If people lose faith in their ability to adequately feed themselves with locally grown products, believing that they have to buy pre-made therapeutic food from foreign companies, it could increase world hunger to an even more devastating degree.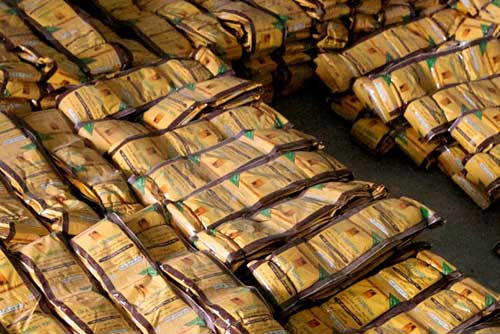 Protein food packets can be life-saving for many malnourished children, and if you're interested in donating to this cause, you may want to be aware of who is profiting.  CINI's Nutrimix protein packets provide local jobs and are made from a combination of locally grown wheat and dal (lentils).  When presented as low-cost, nutritious "snacks" to supplement children's diets, these packets of powdered protein provide a "win-win" solution for local communities and their hungry children.
Every morning in the CINI compound, staff gather to sing an inspiration verse or text together.  Our family was invited to join this chant, and although I didn't know the lines from Tagore that were sung in Bengali, it was wonderful to be there.  Small framed photographs of Indian luminaries such as Mahatma Gandhi and Mother Teresa hung askew above open windows.  The shining moment of the trip for me occurred in the moments following the chant.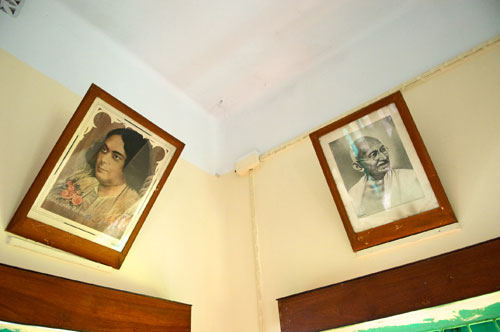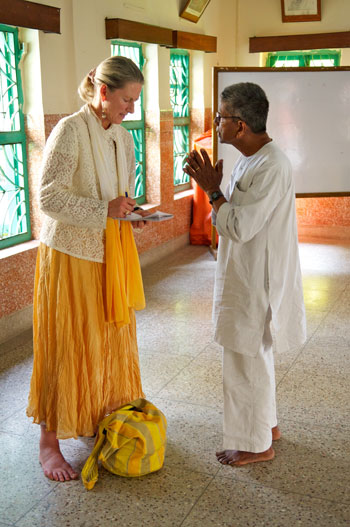 As my friend, Dr. Danielle Green wrote, "Sometimes it just takes a moment."  Standing together, Dr. Chaudhuri and I had a brief, joyfully intense spiritual discourse.  As we headed for the door, he said, "Every morning, I chant a few verses of the Gita and meditate for fifteen minutes …", and I added, "And then you fly."  He smiled.  With fund-raising branches in several countries, Dr. Chaudhuri's impeccable integrity and proven experience in impoverished Indian communities can be a beacon of light that inspires people with resources and opportunities to mobilize their goodness to go.  As we fly, we can help others to fly.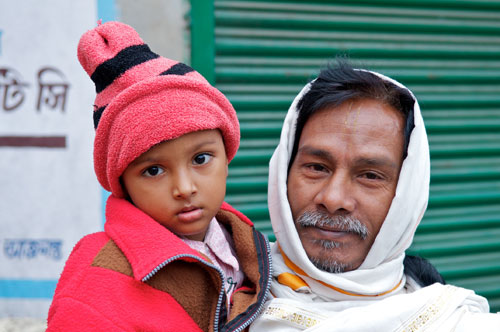 For some reason, I was tired beyond the bone after this uplifting visit to Dr. Chaudhuri's CINI compound.  I virtually never nap at home, but perhaps the nearly over-whelming sensory overload here requires the processing time that sleep can provide.  After reviewing my photographs again with Mark (his long lens can be so obtrusive and cumbersome that my old Lumix is getting a work-out), I floated in and out of consciousness for hours.
After resting, it was time to put Mark's Nikon D300 to use!  He wanted to take more portraits of the neighbourhood children who he befriended in February of 2009.  Mark had a wooden bench placed in the alley, took saris drying on a clothes line, and draped them over Diwali bamboo scaffolding to create a background.  Amidst general mayhem and laughter, the children did balance on the bench one by one to have their photograph taken.  At one point, a mother emerged to remove her laundry, so I hung up the scarf I was wearing as a new backdrop.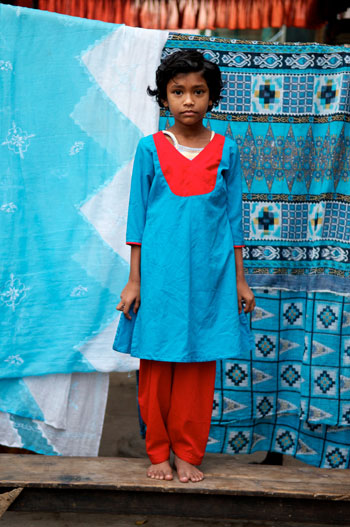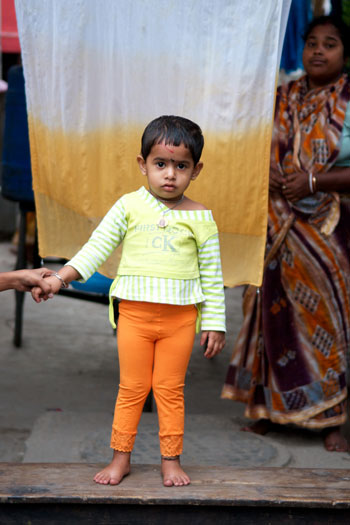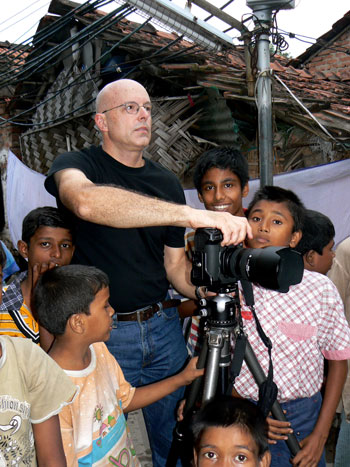 In preparation for this visit, I had slung over my shoulder a spacious cloth purse filled with the hair bobbles and girls' leggings , sorted into sizes,  that a dear patient had donated.  The art supplies we'd purchased the day before were packed into a paper sack.  While Mark took portraits in the alley, I slipped into Priya's dwelling with her grandmother.  They were very grateful for the bag of art supplies and drawing instructional books, understanding that they were to be shared with other budding artists in the colony.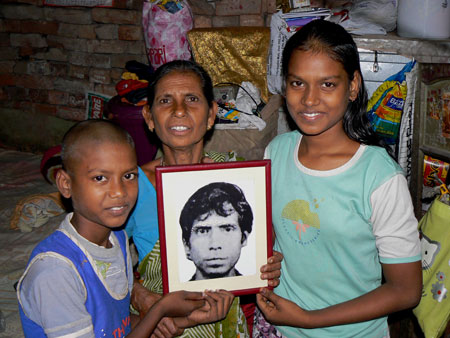 Priya's grandmother then indicated that she'd like me to take a photo of her two grandchildren present with the framed black-and-white photograph of her son who'd died of alcoholism.  After taking several shots, I stood in the narrow laneway and Priya helped translate that I'd like the girls to line up from smallest to tallest.  As I saw an older grandmother arrive in the thick crowd around me, I slipped off my finger one of the large, sparkling, costume jewellery rings that my patient had donated, and give it to the smiling elder.  Then, I'd return to distributing the hair bobbles and leggings.  Any initial organization soon gave way to an excited crush of people; I'm thankful to be tall so that I had some headroom, literally, above the throng!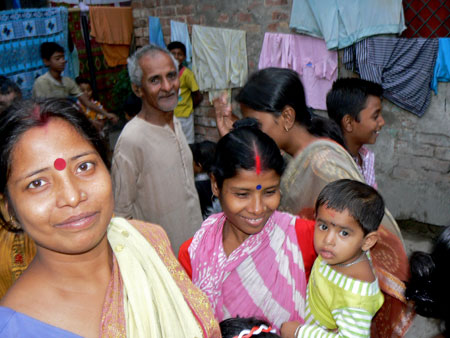 Back at our guesthouse, Mark zoomed in on his photograph of one of the boys in the neighbourhood slum-colony, concerned about a large wound on his shin.  This spunky thirteen-year old boy, Prantik Roy,  is very small for his age, and seems to have some knee joint abnormalities.  Immediately, I found the antibiotics, dressings, and spare soap that I'd packed, and refreshed Mark's first-aid memory about how he'd clean and apply a dressing to his wound.  He returned to the colony, found the boy, and they returned to his small dwelling where his father was asleep in the loft.  Without a translator and with a trusting relationship, the boy allowed Mark to attend to his wound.  He swallowed an Omnicef antibiotic sample that I'd brought, and prayed that the boy didn't have any drug allergies.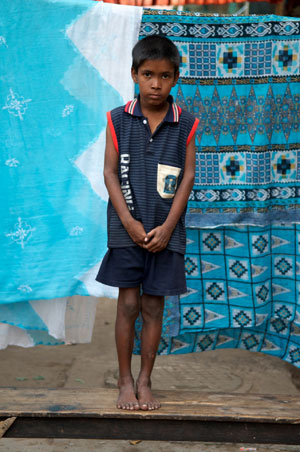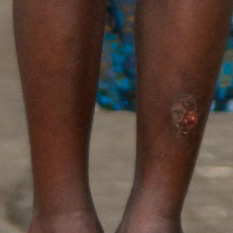 It was time to eat and we were getting tired of the Indian version of Domino's vegetable pizza.  The samosas, grilled sandwiches, and cold coffee drinks at Café Coffee Day called us, and Grace was delighted that her parents were allowing her to have an ice cream drink with some coffee in the evening!  This was our first visit to the coffee "treat" place, whose entire front is glass, that beggar children where outside.  It was disconcerting to be sitting so close on one side of the café window while hungry children in rags were on the other side.  Urban children who are street or "pavement dwellers" have varying degrees of distress.  Some still go to school, some are with a parent but have dropped out of school for many reasons, and some are abandoned, begging in groups controlled by an older person.
The ensuing experience was one of the most difficult of the trip for me, following this morning's highlight moments visiting with Dr. Chaudhuri in the countryside at CINI.  On the spur of the moment, I made mistakes, and will be reflecting on the painful frustration of this evening for some time.  I trust that you'll understand that, while my actions were unskillful, my intentions were heartfelt.  Not wanting to create a scene or attract more beggars, but wanting to share our leftovers, I wrapped some samosas in a serviette (napkin) and slipped it to the nearest boy.
Understandably, Mark was critical.  I watched the boy hide among potted plants on the other side of the window to gobble down the samosa, a small young beggar woman bounce a baby on her hip, and a ruffian punch a smaller child sleeping on the sidewalk.  Initially, I thought the sleeping child with a short haircut was a boy wearing girl's clothing.  However, when the child sat up crying, I saw that she was a girl.  The cast-off clothing she wore was a wretched contrast to her dirty, tear-stained face.  Think Vegas frill meets can-can girl flounce.  Thin shiny fabric, trimmed with soiled white ribbon, slid from her bony shoulders.  At perhaps six, she looked world-weary and sixty.
A little obsessed with getting her a bite to eat, and somehow give some support to her directly as an individual, I wrapped up another section of samosa.  As we left the café, I leaned towards her tiny body, looked in her eyes, and put the food in her hands.  Perhaps I should have stayed to watch over her while she ate, but I was distracted by the woman with the baby who'd come up so close, repeating her obvious plea for help.  As I turned away,  the larger boy who had punched the little girl awake snatched the food from her hands.  Although, in a raised voice, I said it was for the girl that I was pointing at, he laughed and skipped away backwards.
After this disturbing incident with tonight's beggar children, I went to bed about 8:30 p.m.  As emotional turmoil slipped into unconsciousness, I felt a gentle kiss on my right cheek and the top sheet being pulled up over my shoulders.  With gratitude, I slowly opened my eyes and was quietly surprised to see that it was Grace, not Mark, who was tucking her exhausted mother into bed for the first time.    Tomorrow is our final day in Mother India.  Although I slept quite well with the Ambien-Xanax combination until about 2:30 a.m., it was concerning to discover that Grace had been coughing again through the night and had kept Mark awake.
Grace notes on our sixth day in India…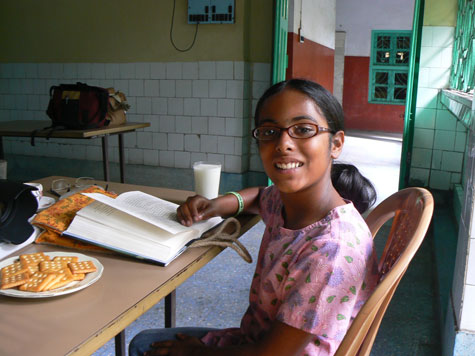 I woke up and felt refreshed.  It was 6:47.  We had to get up early because we were going to CINI (Child In Need Institute).  We met a man named Dr. Chaudhuri.  My mom and dad had lots of things to talk about!  So while they talked, I read Percy Jackson.  Beside the fact that I have read that book many times, the hour of the meeting (for me) was boring.  After the meeting, he showed us around.  It is a big place!  When we got home, I played with Dhruvi.  Dhruvi had a friend over who could only understand Hindi  First, we played dodge ball and I won! I finally learned Dhruvi's friend's name, it is Puja (worship).  We played hide-n-seek.  I never knew there were so many places to hide in the guest house!  We had lots of fun.  Puja had to leave so we cleaned up and said good byes.  After she left, Dhruvi and I had some chai.  We went and watched some of a music video and she did her homework.  My parents said I should get some dinner so off we went to a treat place and had a very, very good time!