November 1, 2020
Calcutta Kids' Slum and Apne Aap Women Worldwide
"There are no rules here.  We're trying to accomplish something." Thomas Edison
"Charity has no label, compassion no religion, wisdom no dogma, empathy no rules."
Lao Tzu in the Tao Te Ching
Dear Friends,
Namaste and Happy All Saints' Day!  In many ways, the depth and richness of this journey to India was made possible by Mark's "hero's journey" to Calcutta undertaken twenty months ago.  Kind-hearted and brave, Mark researched and met with the philanthropies to which we're returning this week, and developed relationships that are deeply meaningful.  Mark is both gentle and tough.  Most "macho" men would be brought to their knees by Calcutta.  Mark is not as exhausted by this environment as I am, and can find his way through the chaotic maze of Calcutta, which in itself is remarkable!  With virtually no street signs in a city definitely not built on a grid, Mark knows where he is.  Even in Boulder, I need to refer to the mountains frequently to know which direction is west!
Mr. Das pads through the guesthouse on strong, small bare feet, and greets us every morning with a sweet smile and "Good Morning!".  Today, Achito shared his sadness, as well.  He showed us a Hindi newspaper which had a front page story about more than 60 people drowning, including many children, when a crowded boat capsized on its way back across the river from visiting "a God place".  A small color photograph showed a grief-stricken young mother holding her one remaining child; her husband and two other children had drowned in the tragic accident.  Haitians are dying in a cholera outbreak, and the earthquake and tsunami near Sumatra has killed hundreds more.  In silence, blessings are offered to all those who are suffering.
After our daily breakfast of scrambled eggs, toast, and cereal, we climbed into the back seat of the car Mr. Maity is using this week.  We're getting used to the multiple games of "chicken" that driving in India necessitates as he navigates the mayhem.  Billboards informed us about what was "100% Elegant" and how to get safer electricity – "Wire Without Fire".  During the iron grey Monday morning rush hour, we stopped briefly by the Ganges River, then continued over the (in)famous Howrah Bridge.  Mark has heard that it is the busiest bridge in the world, with more than a million crossings each day.  During our crossing, it looked to me as if there were close to a million humans moving along with us!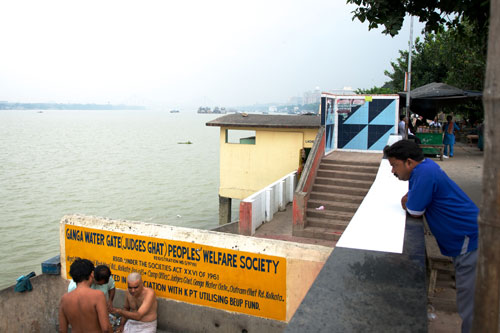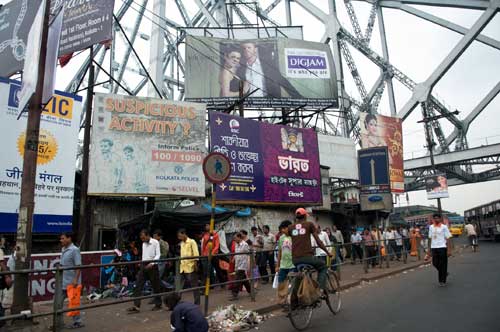 My understanding is that Howrah is like a "twin city" that is linked with Calcutta by the sweeping steel girders of this bridge.  Later today, I learned that in India, the word "district" designates a geographical unit.  West Bengal has fourteen districts.  Calcutta is a referred to as a  "municipality", and, within it, sections of the city such as New Alipore and Howrah are known as "areas".  The area known as Howrah also looks very grim, indeed.  In addition to passing many adults and children in rags living on the streets, we saw a man sleeping beside bustling traffic on a concrete railing that appeared to be no more than six inches across!  Given that he wasn't deaf or dead, he must have been exhausted or a one-pointed yogi, as well as a master of gymnastic balance, to have been able to sleep assailed by that din.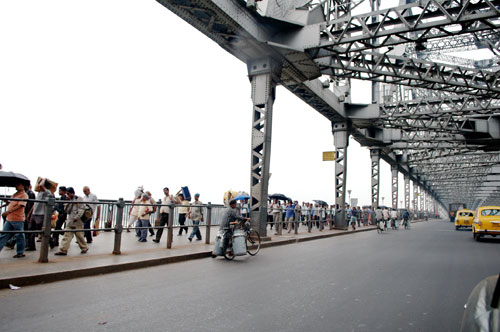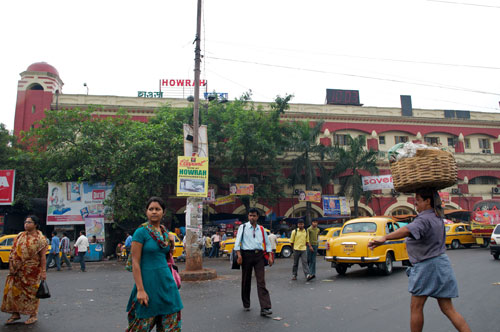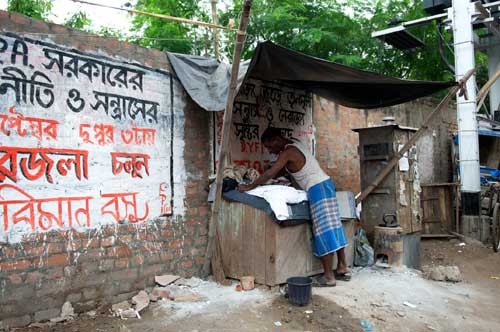 The stench of a fish "market", meaning that fish are lying on a piece of fabric amidst the squalor, caught our attention.  Despite having the address, Mr. Maity was not sure where Calcutta Kids was located, and stopped several times to ask locals.  Along an impossibly crowded, narrow street without any distinguishing features that I could detect, Mark thought he recognized a dark alley, and called out, "Stop!".  Even he was amazed that his incredible visual memory had scored again!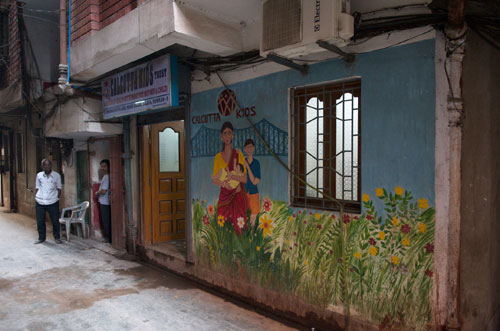 Calcutta Kids is a non-profit, 501-C3 organization founded by Noah Levinson, a young global citizen who was born in the United States and who has served destitute, dying, or malnourished citizens of Calcutta since 1999.  Given that Calcutta is "over the top", even for millions of Indians, it is astonishing to me that Noah is able to live here for so long.  Although he understands the importance of some types of development work done on the "macro-level", Noah is committed to serving on the ground at the field or "micro" level, as well.  Although hungry or sick people need equitable systems that are implemented effectively, they also require direct medical care, safe drinking water, and nutritious food.  Both long and short-term assistance is necessary.  Many are critical of "bandaid" solutions, but sometimes a bandaid is exactly what's needed.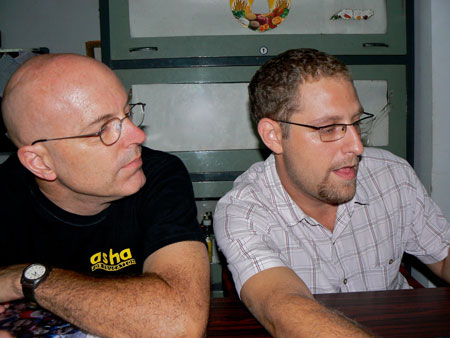 Over the past twenty months, I've heard about Noah from Mark, and my respect continues to grow and deepen.  During the year following graduation from high school in 1999, Noah volunteered with the Home for the Dying and Destitute with nuns who were carrying on Mother Teresa's service.  Noah experienced that the bathing of impoverished, dying people and preparing bodies for cremation was a very moving experience.  The following summer, he met a young Indian teenager with a small wound.  Within days, this young man's wound developed into sepsis, and he died.  Deeply affected, Noah found individual end-of-life care insufficient, and was called to offer direct medical care to impoverished families of Calcutta.
After partnering with a local orphanage, and starting a mobile health clinic providing medical services to street children, Noah's biostatistical training was frustrated by the lack of improvement in the overall health status of the slum community nearby.  Twenty percent of the households in the slum served by Calcutta Kids have experienced the death of an infant less that one year of age.  At this point, Noah decided to focus on infant nutrition, which by extension necessitated working with pregnant women living in the slum.  Severe infant malnutrition often affects brain development and compromises the immune system's ability to fight infection.
To help alleviate this crucial problem, Noah founded Calcutta Kids with an intent to provide a continuum of care for children from birth to three years of age.  Some of its goals are to prevent the death of pregnant women and their children, to decrease morbidity from infectious diseases, and to increase birth weights to above 2.5 kilograms.  Noah is also interested in examples of "positive deviance", research which clarifies why some children with similar resources thrive while others do not.
A world-renowned Indian meditation master, Swami Chidvilasananda, has written, "Becoming unselfish doesn't mean just giving things to others; it also means keeping yourself above the fickleness of the mind and perceiving the Truth (of our divine Oneness) at every moment."  Noah Levinson is one of the truly unselfish human beings that I have had the good fortune to meet.  Indian bureaucracy, like many corporate and government bureaucracies around the world, is very cumbersome and often corrupt.  To assist with the transfer of financial contributions from outside of India, and to be compliant with the Foreign Contribution Regulation Act (F.C.R.A.), Noah created a separate 501-C3 fund-raising arm in the United States in 2003.  For more information, contact him at info@calcuttakids.org.
Calcutta Kids offers several important programs with its modest annual budget.   Its administrative office is a small, basic room that Mark observed was much busier than during his previous visit.  Several American interns, complete with laptop computers, were volunteering, including Brooke Cadwell who is a Nurse Practitioner student from Chicago.  We met Noah's sister, Dora, who serves at Calcutta Kids for months at a time, and also greeted Susan Richardson again, the new volunteer who had arrived in Calcutta on the same plane that we did.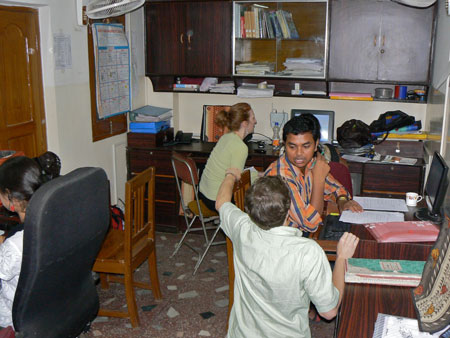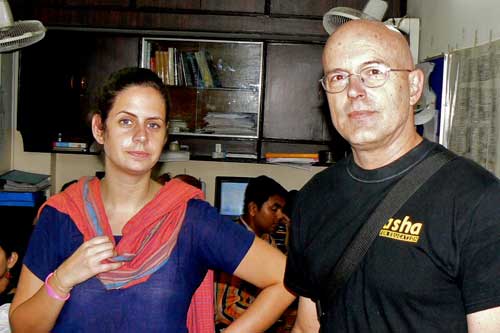 Although Susan smiled warmly, she looked pale and tired, and her eyes reminded me of a deer startled in headlights.  Perhaps I should tell her about the homeopathic tablets called "Jet Lag" that we've used on this trip for the first time; although it may be a placebo effect, they seem to help.  With her background in the insurance industry, Susan intends to help develop micro-health insurance literacy in the slum served by Calcutta Kids.  Apparently, she'll also be attending a related conference in Bangladesh during her seven-week stay in Asia.
Across the alley, we met around a table in another small room with Noah, Dora, and one of his community workers, a lovely young mother named Jayshri.  From Noah, we learned that more than a third of all Indian babies are born with low birth weights, and that about 50% of Indian children are malnourished.  During our talk, I passed on clothing donations for the slum children and we gave Noah's organization a portion of your donations.  Grace waited patiently, and then summoned her inner courage to be the youngest donor ever to visit the desperate slum served by Calcutta Kids.  Jayshri accompanied us on this tour of the neighborhood, which made the slum-colony near our guesthouse seem like Madison Avenue.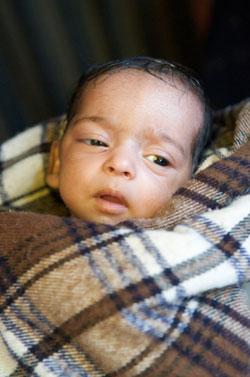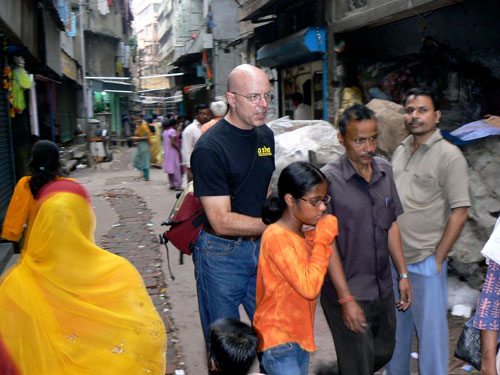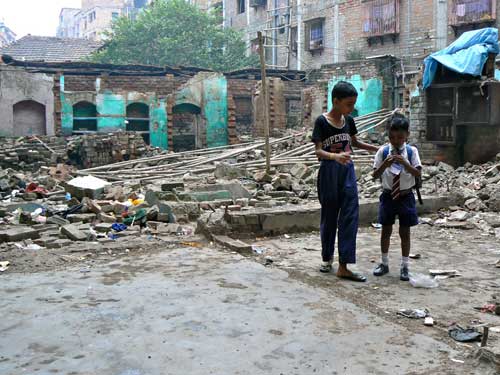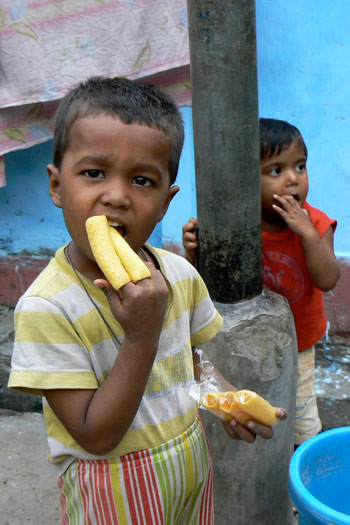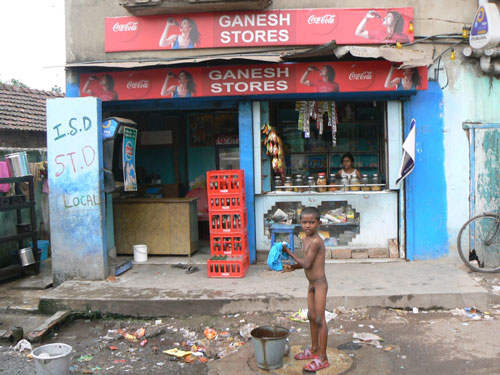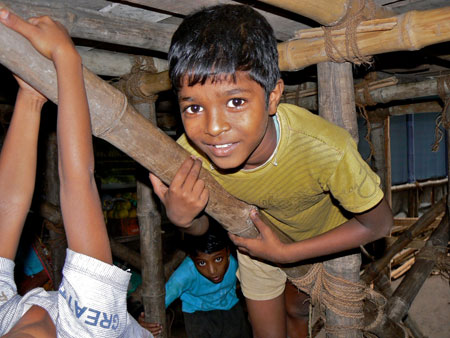 The slum dwellers, most of whom exist on less than a dollar a day, live far below the poverty line (BPL) of $1,033 per year.  Other benchmarks are the absence of toilets and electricity.  Along muddy walkways with puddles of standing water, I hoped that we had applied enough Deet mosquito repellent.  Jayshri is familiar to the slum dwellers because she is one of three community workers who finds, interviews, and supports pregnant women.  We met Shoeb, Jayshri's favorite tailor, smiling in his tiny outdoor stand.  Children gathered to have their photos taken.  Mark remembered walls that are now rubble, and we learned that clubs of thugs decide much of what happens in this slum, including which walls are torn down.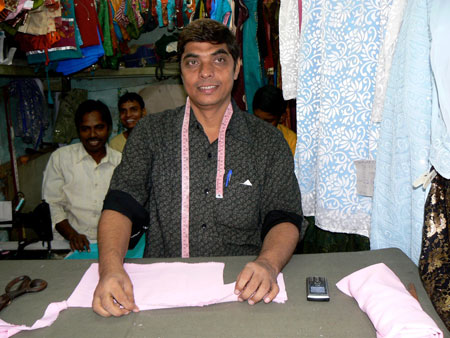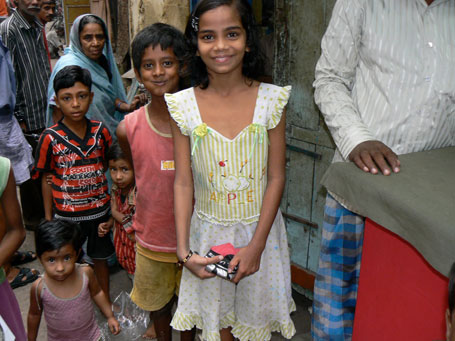 Behind a crumbling wall, we entered a tiny, mud-floored hovel where Mark had taken an amazing photo of a mother with one of her newborn twins in February of 2009.  Although the mother was not there, that twin, who is now a toddler, was on the hip of his grandmother, Manju Tiwri.  He had a mild respiratory infection, but was generally much healthier than he'd been the year before due to interventions by Calcutta Kids.   Manju was as gracious as possible in the circumstances.  It felt like my body filled most of the living space, and, at the same time, hid behind a camera.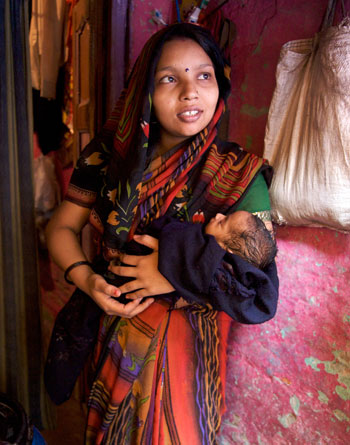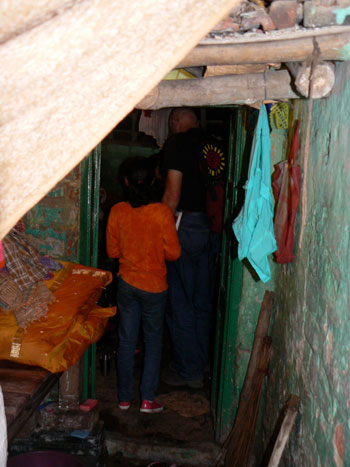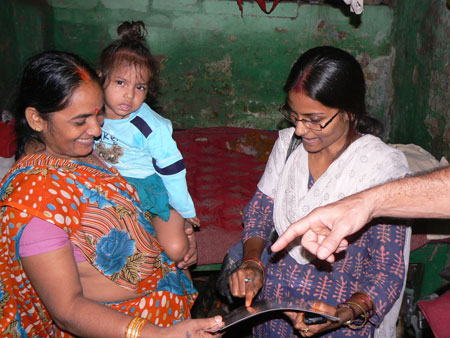 Back at Calcutta Kids headquarters, we arranged to have dinner with Noah, Dora, Brooke, and Susan tonight near Noah's condominium.  Noah seemed impressed that we'd arranged an audience tomorrow morning with the renowned and respected founder of the very successful philanthropy known internationally as CINI.  Its founder is Dr Chaudhuri, a pediatrician and humanitarian who founded CINI in 1975.  Noah indicated that Dr. Chaudhuri lives half the year abroad with his Italian wife and that it is difficult to meet with this very busy gentleman who he regards as his hero.  When I asked Noah to explain more, he told us Dr. Chaudhuri has dedicated his entire life to public health, serving the poor with deep integrity and compassionate generosity.
Challenged by today's walk through the severely underserviced slum, Grace said, "It'd be cool to wipe out all of India and start over."  Later, she wrote, "Life is so overwhelming!"  Eventually, we found Mr. Maity who drove us back across Howrah Bridge to a philanthropy called Apne Aap that cares for children of prostitutes.
Apne Aap Women Worldwide
Founded in 2004, Apne Aap is located near a brothel area close to the port's docks known as Munshigung.  Its renowned director, Ruchire Gupta, who partners with philanthropies that provide vocational training, was not available.  Ruchire is a dynamic woman whose many successful projects, including the decrease of HIV transmission in Calcutta, inspired Microsoft's Bill Gates.  She has written many articles advocating for the children of prostitutes and has begun moving some of Apne Aap's limited resources away from the "micro-level" field level, which includes transitional night shelters for the children of prostitutes.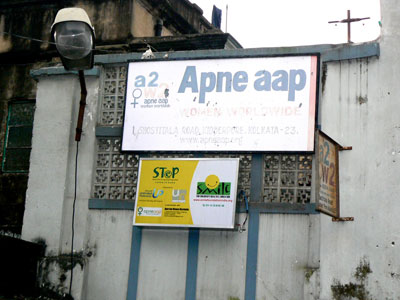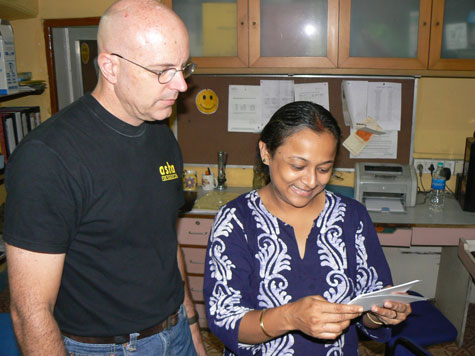 Night shelters, as part of the process of rehabilitation and escape from red light areas, need to be away from the children's home environment in the brothels, and this distance can provide its own challenges.  Currently, the provision of night shelters for children is one of many needs that are largely unmet in Calcutta.  An organization known as Sanlaap provides some "woman hostels" in brothel areas for prostitutes who want to leave the sex trade, but the need is enormous.  It takes about Rs 2,500 per woman per month to be housed in a hostel (2,500 rupees is about $65).  For many reasons, young girls from slums are also vulnerable to being drawn into prostitution.  Outreach into slums to identify girls who are not attending school is one of many programs coordinated by Apne Aap.
The high-energy young woman who met with us has a Masters in Economics and is clearly dedicated to public health.  With a background of evaluating quantitative data gathered about patients with HIV-AIDS and tuberculosis (TB), she described herself as a "program person who loves numbers".  Some of the programs offered by Apne Aap are education of young girls, legal aid so that women have knowledge about their rights, dance therapy, art and drawing classes, and livelihood training so that women can support themselves with a dignified amount of income.
On our brief tour, we observed some of the Income Generation Programs (IGPs) which include teaching teenage girls how to stitch and knit.  Since Diwali is a few days away, other young woman were busy filling small, paisley-shaped candle holders with wax.  Apne Aap also pays tuition fees to quality residential boarding schools who accept some marginalized young girls, housing them in separate wings.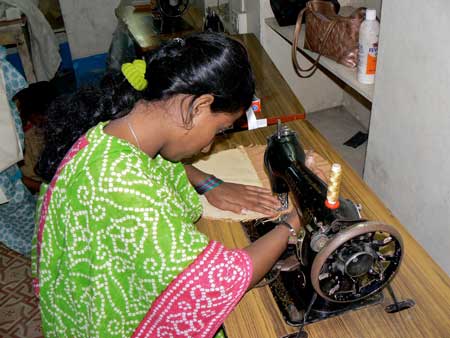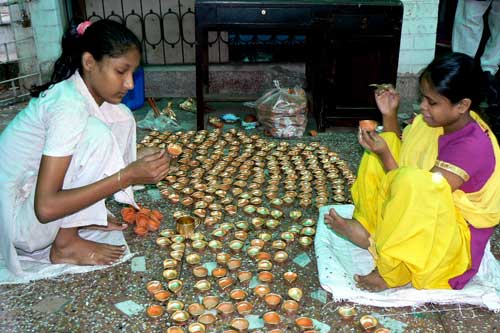 Although we had chai at Apne Aap, we were hungry and thirsty as well as tired and inspired by the time we left Apne Aap.  Mr. Maity drove us to the famous Oxford Bookstore in downtown Calcutta whose inventory is printed predominantly in English.  While waiting for beverages (made with ice cream for Grace and Mark and with caffeine for me) and small treats like samosas and grilled sandwiches, I roamed.  A table displaying a special anniversary collection of some of Rabindranath Tagore's writings caught my eye  In my home library, I have only a large poetry collection of Tagore's, and learning more about this prolific, multi-talented Nobel Prize winner was inspiring.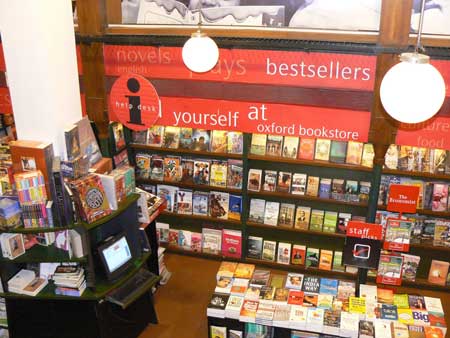 Next door was the Oxford Bookstore for children and young adults.  Here, Mark carefully chose some art supplies as well as instruction books on drawing for Priya to share with other colony artists.  Grace expressed interest in the fluid beauty of Hindi writing, and looked for children's books published in Hindi that were visually interesting, although she wouldn't be able to read them.  It was difficult for Mr. Maity to find parking in the downtown area, but eventually we re-connected.  Thankfully my energy revived after a brief rest back at the guesthouse because Mark and I had scheduled our first and only night on the town in Calcutta!
Dinner at Ballygunge Place – Flavours of Bengal
Some of you may have enjoyed the film My Dinner with Andre, and perhaps you'll enjoy a blog version ofOur Dinner with Noah!  Once again, Mr. Maity cheerfully greeted us outside our guesthouse, willing to wait for us as we dined and visited with Noah and Dora Levinson as well as Calcutta Kids volunteer Susan Richardson and intern Brooke Cadwell.  It was about 7 p.m as we passed wild signage everywhere, and were surprised to see a few blocks of relatively up-scale, wider retail storefronts displaying their wares.  One billboard appealed to the "Compulsions of Connoisseurs."  (It seems that the possibilities for this level of consumption could be staggering!)  Standing monoliths of complex, LED designs, mounted in  staggered displays in preparation for Diwali, flashed technicolors along a side street off Ballygunge Place.  I was taking a photograph of a temporary temple-like structure in the middle of a street when Noah, his sister Dora, and Susan called out.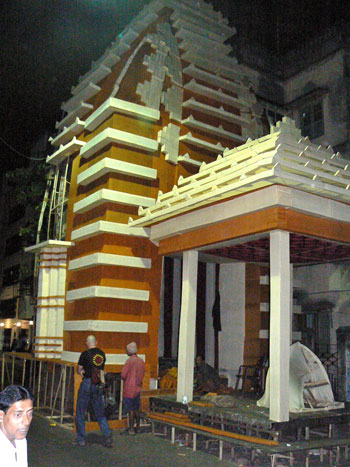 Although Mark can be brave and adventurous, these qualities do not extend to his food choices!  As many of you know, Mark's calories are derived primarily from the carbohydrates "food group", heavy on ice cream, toast, and yogurt, so tonight's only regional food while in India (!) was a stretch.  Thankfully, Noah ordered.  He has lived a few blocks away from Ballygunge Place for several years and is very familiar with its menu.  It was a joy to treat this quartet of good-hearted young people to dinner.  Admittedly, although I enjoyed the prawns in an organic tureen of some sort, the visual appeal of most of the dishes was lacking.  A bowl filled with a dark clump of something made from banana flour was definitely unappealing to Mark.
The chefs had removed the countless tiny bones from the locally famous Bengal hilsa fish and prepared the batki fish with an interesting sauce.  Not a fish fan, Mark stayed away from even the chicken tonight, perhaps because its cut was not identifiable.  He also does not like cucumber, although we learned about various types of local cucumbers such as the tiny potol and spiky karala, as well as the wrinkly green jhinga which has long, star fruit-like ridges.  Dualism and pairs of opposites, like attraction and aversion, seems to accompany life as a human being.  I acknowledge being much more attracted to the rhythmic sounds of ocean waves than to harsh, nerve-jangling noises of Calcutta traffic!
Fortunately, conversation with our dinner guests was much more enlivening than the food.  We asked Susan Richardson about the micro-health insurance project that she's helping Calcutta Kids to expand.  In general, Indian awareness about the value of insurance is limited; of its 1.2 billion citizens, only 3% have insurance of any kind.  Understandably, insurance literacy is one of the first goals of the micro-health insurance program.  Of course, affording any kind of insurance is virtually impossible for the more that 880 million people who live of less that two dollars a day.  The glaring disparity between the rich and the poor in India is staggering.
Currently, the options for most impoverished people with a severe medical condition requiring hospitalization is to forego treatment for which they cannot pay, sell any remaining wedding jewellery, or appeal to money lenders, who charge 80% interest in some slums.  It  would not be wise to miss payments to these frequently violent, mafia-like lenders.  With education, the value of micro-health insurance is understood, although only 500 slum families have been able to enroll in Calcutta Kids micro-health insurance program to date.
Another topic of discussion was the complexity of challenges faced by those who are genuinely committed to equitable "development" in areas of extreme poverty.  As you know, the global financial sector sees development as a business, that it can be a very lucrative business to some.  Others may find it distasteful, if not unethical, to make huge profits from providing a basic need to impoverished people.  Often, governments want a portion of whatever money is brought in for philanthropic service.  Some bureaucrats want their "palms greased", getting paid under the table to submit a form or move a request through systemic snarls.
Although the Supreme Court of India supports equitable laws that are pro-poor and pro-woman, the implementation is lacking.  This bottleneck in the distribution of creative, beneficial ideas occurs around the world, but impacts the quality of our daily lives far less in the West than in many other countries.
"The voyage of the best ship is a zigzag line of a hundred tacks," wrote Ralph Waldo Emerson.  Although Dr. Muhammad Yunus' renowned Grameen Bank's community-based micro-credit system took a decade of adjustments to come into place, its approach has directly improved the living conditions of the families of millions of woman previously denied financial resources.  However, the integrity of nearly any strategy for good can be compromised and degraded.  Who watches the watchers?  Even reputable philanthropic programs with transparent business practices often get less than a fifth of their budget to the intended beneficiaries directly.  This is called the Leaky Bucket Theory of many kind of development approaches.
Micro-credit that invests in something concrete like an entrepreneur's small business is different from simply lending money to pay for expenses.  There is a great deal of corruption in this kind of micro-finance, where people borrow more and more money that they cannot pay back.  This is dangerous to them on many levels.  Compounding interest charged to impoverished people has made the employees and stockholders of many banks very wealthy.  Of course, millions of Americans have gotten into similar kinds of debt with the used of multiple lenders called credit card companies.
It is for these reasons that many people disagree with the economic approach of excusing national debt owed to the World Bank.  It is suggested that the World Bank should not be lending to countries without responsible, realistic strategies to re-pay a loan.  A 21st century understanding  of equitable, respectful international  development is to invest in sustainable, community-supported programs, not to give hand-outs which ultimately disempower human beings.
A brilliant economist, Hernando De Soto, wrote The Mystery of Capital: Why Capitalism Triumphs in the West and Fails Everywhere Else.  De Soto's ideas are being implemented successfully in South America, and there are exciting new programs being developed by the World Bank and the International Monetary Fund (IMF).  In these goal-driven, investment programs, if the country reaches at least 50% of their target goal within an agreed upon number of years, the loan becomes a grant
Like many generous souls who serve in the field of international development, Noah has experienced that simply bringing in good ideas without on-going support is not sufficient.  How many have noticed rusting solar panel technology or broken mechanical well systems fallen by the roadside in developing nations?  Sustainable initiatives depend on changes in individual's behavior based on education that is a meaningful exchange of relevant information.  Often, this kind of education is regarded as too "soft" to research statistically, and donors like to see their donations and investments manifest at the "bricks and mortar" level of infra-structure.
We shared our mutual respect for Dr. Paul Farmer and his Partners In Health international philanthropic work.  Noah then mentioned that a goal of Calcutta Kids is to expand a health program for adolescent girls.  Many have anemia due to malnutrition compounding blood loss during menses.  As you may know, millions of girls around the world stop going to school when they reach menarche because of embarrassment caused by not having sanitary napkins.  At one point in our dinner conversation, I asked Noah, who has worked in Calcutta's slum communities for over a decade, what he felt was an essential key to help end cycles of poverty.  What will change the world in a positive, sustainable way?  His answer was, "Gender equity."
Gender equity.  I was quietly surprised with the direct brevity of his response, and agreed with him in the depths of my heart.  Expanding the possibilities for girls and women has been an on-going, powerful commitment in my life that began taking form thirty years ago when I taught at a rural girls' high school in Jamaica, West Indies.  Many cultures have disempowered half of their people through traditional practices like foot binding and female genital mutilation in order to satisfy the pleasure or desire for control of men.
The Indian girl child is still viewed as an economic liability because of the cultural tradition of exacting a bride price or dowry by her husband's family.  Any extra food or opportunities are extended to boys because they are expected to live close to their parents and support them when they're elderly.  Parents around the world elect to abort many more female fetuses, and in some countries, more males are  born than females.  Millions of families forego family planning and birth spacing for many reasons aside from religious mandates.  More children means more workers to enhance the parents' chance of survival.
After many more topics of conversation, the six of us climbed the stairs to Noah's Calcutta condo apartment.  There we saw a poster from the Telluride film festival that is held over the Labor Day weekend in southern Colorado, and discovered more interests in common.  Noah publishes film reviews about movies that he sees in the remarkable mountain ski town of Telluride, and indicated that he felt refreshed, as if all were right with the world, when he visits Telluride.
Jim Levinson, Noah's father, knows Greg Hassel and Ariel Brugger, our mediator friends in Brattleboro, Vermont.  In early 1980s, I was a co-director of an alternative high school in Boulder called September School.  I felt an immediate connection with Ariel, and since she was living independently at fourteen years of age and I was the Junior High School principal, her tuition fees were waived.  Ariel is the former student who borrowed a car and drove through thick mountain fog to bring me a dozen red roses the day before my MCAT examination.  Those roses circled that prerequisite medical school exam, and the rest, as they say, is history!
At Ariel and Greg's wedding in the Vermont countryside, I was thankful for the opportunity to share with all of their guests my deep regard and affection for this amazing young woman who is now the mother of two boys.  She has moved on from her work as a director for Vermont's  victim-offender reconciliation programs, and was accepted at a local Physician Assistant training which starts soon.  (Yes, I wrote a glowing recommendation!)
Ariel and Greg met at Auschwitz in 1995 at the beginning of a peace walk marking the 50th anniversary of the bombing of Hiroshima.  Noah Levison's father was there, too.  During the walk across Europe, including Bosnia, through India, and across Cambodia's roads near countless land mines, Greg and Ariel became close friends.  The peace walk culminated in Hiroshima's anniversary commemoration of the U.S. bombing of Hiroshima during World War II.  May one of the life-affirming legacies that we leave our children be a world free from nuclear bombs.
A luminous woman in a photograph above Noah's bed looked familiar, and I laughed in amazement when I realized that we both knew Olivia Hoblitzelle!  About twenty years ago, I had met Olivia several times, including at Harvard's Mind-Body Institute where I completed the final rotation of my family practice residency.  Recently, Olivia has published a powerful autobiography originally entitled The Majesty of Your Loving – A Couple's Journey through Alzheimer's. Despite the difficulty challenges, the humanity and love of this couple shines throughout the book that Noah calls the most important of his life.  Information about Olivia's uplifting journey as her husband's care-giver can be found at TenThousandJoysand Sorrows.com.
Due to a generous contribution from friends in Kentucky, Grace was able to donate to Calcutta Kids a sum large enough to sponsor the medical care of a pregnant young slum dweller and her child.  Noah was moved by our daughter's courage and generosity, saying that Grace was the youngest donor to have actually visited the slum that is served by Calcutta Kids.  Indeed, Grace Shanti is remarkable!
At about 10 p.m., we left Noah's third floor, 1,000 square food apartment, bidding farewell to his sister Dora, nurse-practitioner Brooke from Chicago, and Susan Richardson, the micro-health insurance intern who'd been on the Lufthansa flight with us.  Strings of multi-colored Christmas lights dangled from decrepit buildings whose visual ugliness disappeared into the dark, smoky night air which was the coolest that we'd encountered in India.  We passed a shadowed man squatting near a small garbage or coal fire, fingers spread wide and intense gaze peering into the crystal ball of its smoke.
Concerned that we'd overstayed any childcare assumptions of Dhruvi's parents, we were relieved to find Grace and Dhruvi alone in the upstairs living room lying on their stomachs coloring together on a large sheet of paper.  Soon we were in bed because early tomorrow morning is the important appointment with the director of the Child In Need Institute.
Grace notes about our fifth day in India…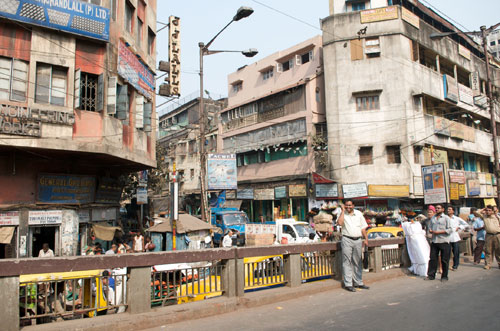 Life is so over whelming!  I can't believe all the poverty and despair.  Went to Calcutta Kids(the small NGO – non-governmental agency – founded by Noah Levinson to enhance the health of slum infants from birth to three years of age) and went into the slum.  It had flies, dirty people and animals.  We met a woman (who, by the way, is the mother of the woman in the slum that my dad met last time he went to India) who was watching one of the very sick and feverish babies the mother had. I was happy when we got out!  After that, my family and I went to Apne Aap.  Apne Aap is a place where needy kids go to school or after school lessons.  We went to the Oxford Book Store and had a treat.  Looked at some books and went home.  Relaxed and played with Dhruvi.  Parents went to dinner, came home about 10:30 pm  I am in bed.  Good night!