November 4, 2010
Calcutta Chaos/Frankfurt Efficiency/Boulder Beauty
"If we knew what we were doing, it wouldn't be called Research."
Albert Einstein
NO PAST.  NO FUTURE.  JUST NOW. printed on a T-shirt seen in Calcutta
Dear Friends,
Namaste.  Before 1 a.m., Mr. Maity delivered us to the Calcutta airport with plenty of time to check in, although the process is remarkably cumbersome and slow.  In a Happy Diwali card, we'd included a gratuity for Mr. Maity's week of wonderful assistance and gave him, for his two young daughters, Grace's last goodie bag which she'd decorated with a peace (shanti) sign.  During the ride to the airport, I asked Grace what was one thing she learned on this trip, and she replied, "That India smells."  Soon she added, "It's good to know that I can get used to the air pretty quickly, probably because I'm from here and lived the first five months of my life here.  It smells familiar… We are going home!  I just can't wait!  Good bye!"
During an enjoyable overnight flight from Calcutta to Frankfurt, Grace said, "I'm glad we're not in India anymore."  We slept, ate high quality airline food (not an oxymoron on Lufthansa!), refreshed hands and face with warm moist towels, and watched several movies of our individual choice (including Salt andInception for me and The Last Airbender again for Grace)  Even Lufthansa's economy class is good – although ironed white linen table cloths are not included with each meal!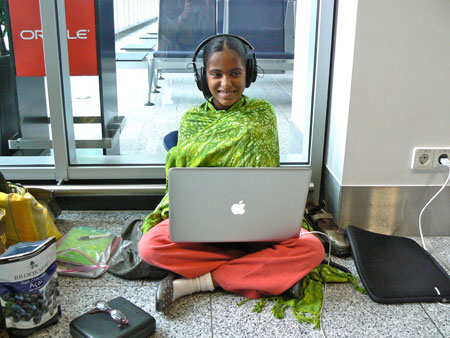 As we made our way through security again in Germany, Grace's cozy blue pull-over was lost, unfortunately.  We waited for several hours in this impeccable, silver and grey stainless steel airport, and I sat on the reflective speckled marble floor, trying to record a fraction of our final, intense days in India.  Somehow, each moment felt surreal to me, even when I was in the thick of it all.  (Was I really standing inside a tiny, muddy lean-to in a Calcutta slum earlier this week, humbled beyond words by formidable human beings surviving in crowded, crumbling urban squalor?)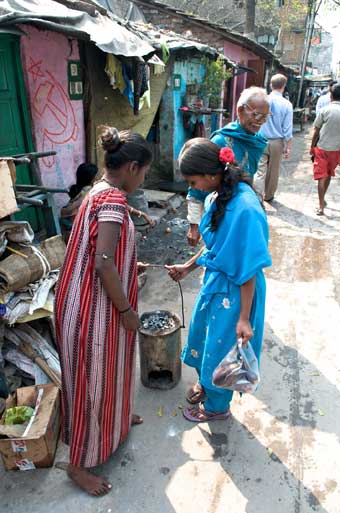 At Denver International Airport, we found Mark's older brother, Steve Sherman, who kindly drove us to our home in Boulder.  It was early evening, and we were very thankful to be back safe and sound.  For reasons we learned later, we couldn't open our front door so Mark went around to open the side door.  Grace Shanti's grey tabby cat, Hannah, welcomed us.  She'd been receiving wonderful care from the daughter-mother neighborhood duo of Grace and Susan.
When our front door key appeared to have been taken out of our mailbox part way through our time in India,  Susan had a new lock installed after informing the police.  Fortunately, there is no evidence of a break-in or burglary.  In the months of planning for this trip, it was initially frustrating to learn how much more expensive it would have been to have flown from Calcutta on to Maui, rather than back-track half way around the world.  Two separate trips was not only less expensive, but took significantly less time and energy.
It was wonderful to regroup overnight at home between these contrasting, if not polar opposite, adventures, and simply sort mail, check messages, do several loads of laundry, and sleep in our own beds.  I'd pre-packed much of what we'd need for Hawaii, but switching out luggage and continuing to add needed items took hours longer than expected.  (Of course!)
Grace Shanti, Mark, and I thank you with all our hearts for your interest and virtual presence in our family's first return journey to India and in Goodness To Go!  It felt like we flew on the wings of your prayers and blessings, and are very grateful to have been protected and guided in so many ways, known and unknown.  It may take months or even years to integrate some of what we've learned and to clarify new inspirations and directions.  There are thousands of experiences for each of us to contemplate., and it's true that sometimes "it just takes a moment".
That moment for Grace may have been giving the neighborhood children the goodie bags that she designed for weeks before flying to Calcutta.  "I liked helping them," Grace smiled.  For Mark and me, particularly meaningful and transformative moments occurred during our meeting with Dr. Samir Chaudhuri at the Child in Need Institute.  During this journey, I've also been focusing on the space between – between moments, thoughts, heartbeats, and breaths.
During our rejuvenating retreat on the garden island of Maui, we'll continue to work on daily entries that, for many reasons, we were not able to complete in Calcutta.  Many thanks to my patient, Cina, for gifting us with this stay in her condo near the Pacific Ocean in the town of Kihei!  On the physical plane, it is like a journey from  darkness to light.  I am deeply thankful for the incomparable beauty of our planet's  natural environment, and to share my love for the ocean with my dolphin daughter.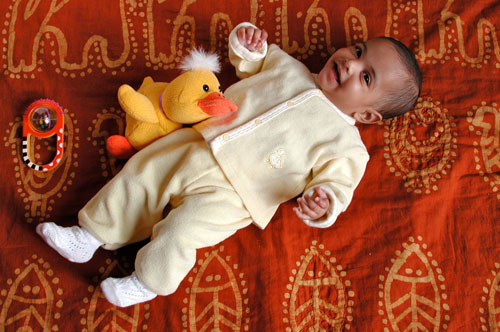 Over eleven years ago, our process of becoming parents opened us to the possibility of adopting a girl from India.  Mani Halder, MSW went in search of orphaned infants in Diamond Harbour, and Sunil Prakash matched Bandana (Grace Shanti) with us.  Mark and I flew to the Calcutta orphanage ten years ago to bring our beloved daughter home, initiating a new, wonder-filled chapter in the life of our family.  It feels like this journey back to India initiated the threshold of another transformative time for us.  May we integrate its many gifts with wisdom and grace.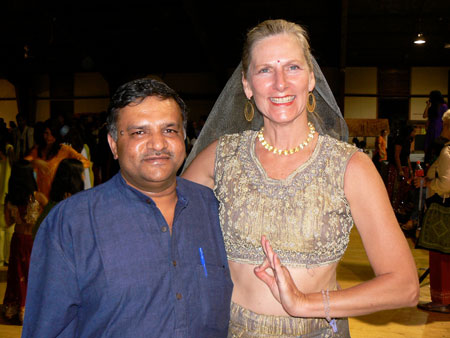 Over the past two years, I've written a manuscript about offering one's integral service entitled Goodness To Go – A Handbook for Humanitarians.   However, at 400 pages, it needs an edit,  and an agent, if possible!  If you have any knowledge or contacts that would support the next publishing phase of this book, thank you for letting me know at my e-mail address included near the beginning of our goodnesstogo.org site.  If you'd prefer, please call us at 303-413-1206.
May this handbook inspire many to find sustainable, uplifting ways to offer their goodness to go.  When the heart overflows, its gratitude often takes form as integral service.  If all who are able begin to dip their toe into the ocean of goodness, a beneficial tidal wave can sweep the planet!  Bit by bit, we can learn to hold it all in arms grown strong with love.  Proceeds from the sale of Goodness To Go will be used to develop programs in partnership that empower young girls so that they have many more options than to be forced into early marriage and teenage pregnancy, to be trafficked, or to enter indentured servitude or brothels.
Recently, I read the meaning of Aloha that a Hawaiian man, Lopako Kimo, calls the silent breath of the soul's essence  He wrote that the Hawaiian word Aloha is "not so much a word as it is an attitude or state of mind, peacefully filled with spirituality, compassion and gratitude.  Aloha is the Spirit of goodness… and is by nature, unconditional…while giving generously of itself, Aloha asks only that we share its gifts with others."  In many ways, the Aloha spirit is inherent in the Indian greeting of Namaste, welcoming the one sacred energy existing in us all.  And the English greeting of "hello", similar in sound to Aloha, hails from a source containing the wish for another's good health, "May you be whole".  Aloha is shubha, the energy of goodness also known as "mana" in Hawaii.
Thank you.  Dhanyavad.  Mahalo and Aloha.   On the last leg of this journey, we flew on a Frontier jet with a beautiful white trumpeter swan painted on its tail.  As I crossed the plane's threshold, I read a sign of welcome which said Today you're flying with Grace!  Some airlines are beginning to name their jets, and this one is Grace!  Our  Grace was delighted to hear that she was flying with Grace!  In many ways, the awareness that we fly with grace has become a key theme of our three week adventure which has become an epic, transformative journey for our family.  May everyone fly on wings of grace through each moment.  As we pass through this threshold of transition, we send good wishes to you for a delightful Thanksgiving Day.  There is so much for which to be grateful.  In every season, may we celebrate gratitude, generosity, and joy.  Happy New Year, Namaste, and Aloha!
with love and gratitude from Goodness To Go,
The Sherman-Hamilton Family