October 31, 2010
The Mid-Point of our Calcutta Visit
In the end what matters most is
How well did you live
How well did you love
How well did you learn to let go.
Dear friends,
Happy Hallowed Eve!  It's Sunday, and Kali puja decorations are going up everywhere in Calcutta.  On this  Sabbath, we did take more rest.  It seems that a  lingering legacy of having been a colony of Christian imperialistic England is that some people get Sunday off and so there's less traffic congestion.  Awake early, Grace repeatedly had to be gently restrained from going upstairs to check if Dhruvi was ready to begin a morning of play.
We are so fortunate that Grace Shanti has fun, familiar entertainments, including movies and pillow fights, with a new friend that allow a reprieve from the distressing aspects of her first trip to India.  A break from the intensity seems to help Grace rebalance and gather her fortitude.  With unfamiliar adults, Dhruvi, who is also ten years old and about Grace's size, presents herself as a reserved, soft-spoken girl.  Like many local children, she has this week off from school due to the Indian New Year Diwali celebrations.  Through Grace, I've learned that Dhruvi is often irritable with her family, gets tired of translating her parents' fairly thick accent for Grace, and her play can include aggressive elbowing.
Mark went to see the colony kids, taking his binder with the neighborhood kids' field note pages.  He wanted to record their names and birthdates under photos of each child whose photo he took during his visit last year.  Many don't know their date of birth.  Mark also was invited inside several of the very small hovels and learned more about fourteen year old Priya who is a self-taught artist.  Priya is a beautiful young woman whose mother died years ago and her father deserted his children and got remarried.  It was her uncle who died of alcoholism last year.  (The image of Priya's family standing around his photograph was included in yesterday's blog entry.)  Priya and her two brothers live with their hardy grandmother who supports them by cleaning houses.
While Mark visited his young friends, I was thankful for the time to sit for a longer period of meditation and prayer.  During breakfast, I asked Mr. Das if there was a  enclosed church or temple, rather that a small, open-air shrine, where I could meditate in relative quiet, and was surprised to learn that he didn't know of any nearby.  It may be that Indians who meditate usually practice at home altars.
Mr. Das' gentle, earnest manner, silver facial stubble, wire glasses, and lively hand gestures were a sweet sight as he tried with his limited English to help us understand that most temples are swarming with poor beggars.  My busy mind is difficult enough to quiet at the best of times, and I knew that having the harsh realities of unjust economic disparities literally "in my face' would not be conducive to states of silent inner peace, self-inquiry, and rejuvenation at this time.  My intent is to remain open-hearted to all that is, to see the big picture, and not be lashed by "white person's guilt", but these can be painfully challenging practices, at times.
Mr. Das also shared with us the Hindu understanding that all images of the divine are aspects of One divine power.  In a sense, it is not that Hindus have a pantheon of deities, but rather that each one represents a facet of the universal creative energy.  Mr. Das's chosen deity is the goddess Kali.  Kali is often shown with a fierce black face whose red-tongue sticks out (I can't help but think of the Rolling Stones' use of that image!).  She is the fearless energy that protects us and cuts through and transforms anything that limits our spiritual maturation, such as fearful or destructive elements of ego.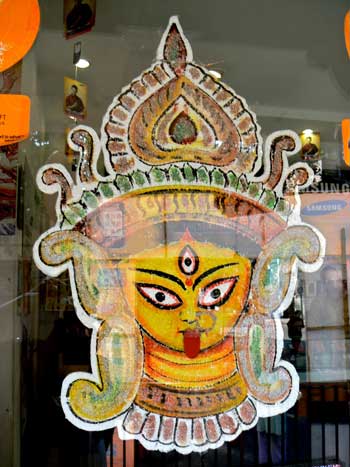 The goddesses Kali, Lakshmi, and Saraswati form a trinity representing the universal energy of creation known as Durga, or Maha (great) – Shakti (power).  There are beautiful chants and wondrous tales about Durga's prowess, especially in the form of a multi-armed warrior riding a Bengal tiger who destroyed the forces of evil threatening creation.  Durga Puja, or worship, follows, Navaratri, the nine nights of the goddess in which the feminine aspect of the divine is honored.  We arrived in Calcutta after that auspicious night of worship where large statues (murtis) of  the Goddess Durga are submerged in the sacred Ganges River.
Grace was a little sad to miss Halloween tonight,  although we are in the land of skeletal apparitions and masks of fierceness.  One of my dear patients donated a fun collection of girly-girl items from her wonderful boutique on Boulder's Pearl Street called Violette to distribute in Calcutta.  From this large plastic bag of gifts (Santa Claus comes to mind!), Grace chose a matching pair of sparkling baubles as friendship rings with Dhruvi, and we placed them in a small Lufthansa cookie box for their presentation.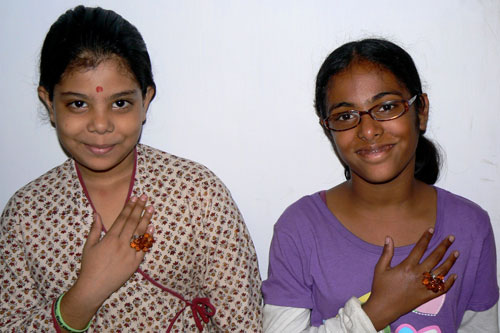 I took photos of the girlfriends wearing their new rings, and, later, Dhruvi gave Grace a beautifully illustrated hardcover book entitled The Journey of the Soul. When I opened a page at random, I read thatthe Real Home of the soul is not in this world, but back in the Ocean of Light. As she closed its cover after reading it, Grace  commented softly that it was a beautiful  book.  Before and throughout this journey to India,  I've been helping Grace to practice imagining herself in a sphere of silver-white light as a form of energy protection.  She, too, finds it helpful to be aware of the light that is always shining within our hearts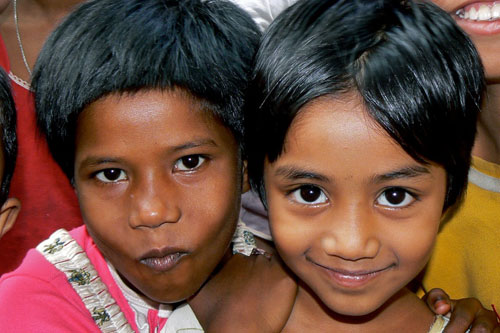 After our breakfast conversation with Mr. Das, Mark returned to his friends, the Neighborhood Kids living in a slum-colony, to begin recording their names and birthdays (many did not know their date of birth) with Sanjit Roy as his interpreter.  Grace hung out with Dhruvi and I wrote.  (I trust that if you're reading this blog, you'll skim and skip parts that are of little interest to you.)  By 12:15 p.m., we were dressed in our Sunday best to take Madhumita out to lunch at an upscale restaurant called Mainland China.
On our way along the bustling main street of the Alipore district of Calcutta, we saw impressive puja displays being assembled.  Countless lashed bamboo structures are being draped with colorful fabrics and then strung with lights.  Mr. Das had told us that various districts and neighborhoods of Calcutta have competitions as they design their elaborate Diwali creations.  I've been told that Kali is the patron goddess of Calcutta, and Indian New Year's celebrations here focus especially on the worship of the Goddesses Kali and Maha Lakshmi as the bright lights of the new year dispel the darkness of the old.
I also saw a corpse bouncing along the roadway on the shoulders of young male pall-bearers who were striding along at quite a clip very close to traffic.  On a white sheet stretched between two lengths of bamboo, the pale face of an elderly woman's body wrapped in thin white cloth was surrounded by small orange flowers that looked like marigolds.  Exclaiming that this was the first time that I'd seen a body on its way to cremation, Mark had wished he had been looking in another direction at that moment.  From death, we turned to nourishing our bodies.
Chinese Sunday Brunch in Calcutta
We pulled up in front of Mainland China, and a uniformed doorman respectfully opened our old car's hunter green door for me to disembark from my diesel-powered carriage!  Mark told me that our driver, Mr. Maity, had turned down invitations last year to be included in meals with him and Dr. Sen had suggested that we give Mr. Maity a hundred rupees or so ($2.50) if  he'd be waiting for us over a meal time.  These kinds of economic class distinctions continue around the world  while, at the same time,  one divinely conscious energy enlivens us all.  There is so much paradox and so many contrasts on so many levels in life, especially in India.
The impeccable, gorgeous staff and friendly waiters of the Mainland China restaurant were even more elegant than its lovely space.  The food was  wonderful, and I was especially appreciative that I could choose from a wide array of vegetables to be lightly stir fried for me.  It seems that I always crave fresh vegetables, which can be difficult to find on any trip, especially one where fear of gastroenteritis looms large.  Grace's big smile beamed as she spooned into her multiple flavors of ice cream, exclaiming,  "At least there are some of the comforts of home!".  Madhumita  yeans to hear stories and suggestions about Siddha Yoga practices, so we talked as Mark joked with the waiters about the suitability of the degree of chilling of the bottled water brought to our table!   It was fun to laugh together with these lovely young people.
We passed on a $100 donation from my patient Tom to contribute to the care of the handicapped children we'd met the day before, and Madhumita had gifts for each of us – a journal for Mark, a bracelet and candle for Grace, and a long sheer scarf (dupatta) with a red and white floral design for me.  I am moved by her thoughtfulness, and we intend to keep in touch through e-mails.  Although I assume that Madhumita has many days that leave her bone-weary, she is warmly effusive in her appreciation of our presence in her life, and she's been very generous in her welcome.  Although it's unlikely, she's hoping that we'll have time to visit again before we leave.
This friend is a widow working very long hours within a challenging field in one of the world's most difficult urban environments that is not in a war zone.  Adding the trauma of war and terrorism to the multiple stresses of Calcutta, even affecting those not living in extreme poverty, could almost shatter one's imagination and resilient adaptability.  Yet countless human beings do exist in distressing, frequently horrific conditions that include constant terror in addition to hunger and despair.  Although my stomach may have been comfortably full after this delicious and nutritious meal, many of my thoughts and feelings were less comfortable.
After our arrival back at the guesthouse, Mark returned to his colony friends but was unable to meet with Priya's grandmother because she was still cleaning houses.  On Priya's bed in her small living space, Mark set-up two portable speakers and his MacBook Pro lap-top Apple computer.  Reviewing his 2009 photos with the small group that had gathered, they looked for any images of Priya's deceased uncle.  None were found.  After enjoying Mark's slide show from his visit in February of 2009, the group watched segments of the upbeat, animated film with penguins tap-dancing called Happy Feet. As he left, Mark noted that bamboo puja construction had begun  beside the slum-colony's small outdoor shrine.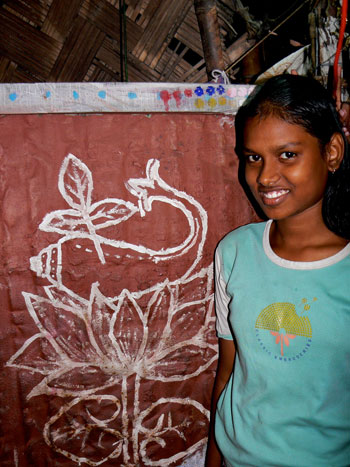 Back at Mr. Singh's, Mark found me writing while Grace played upstairs with Dhruvi.  On our new Indian cell phone, Mark called a fireman friend to check on the status of the Boulder Canyon fire.  Battalion Chief Tim Hanlen, who helped to stucco our southwest-style outbuilding about a decade ago, reassured us that the fire was no threat to our home on the foothills of the Colorado Rocky Mountains.  I added my thanks to Tim for his support in approving Mark's personal time off from work in early October.  This allowed me to visit my dear friend Cheryl, who has been battling metastatic breast cancer for years, when she moved into a Hospice facility.  Eventually, we all fell asleep but this was the first night that Grace's coughing became more pronounced.  I'm not sure if she is developing a respiratory infection or if the pollution is causing some reactive lung constriction.
I tried to limit the number of books that I packed for this trip to India, but I have to smile when I see the large first novel by Gregory David Roberts called Shantaram beside my bed.  Strongly recommended by a patient, it is, reportedly, a vibrant story of remorse and forgiveness set in Bombay's slums, opium houses, and brothels.  The author is an Australian who was sentenced to nineteen years in prison for a series of  armed robberies committed to support his heroin habit.  Roberts escaped over the prison's front wall, and spent ten of his fugitive years in Bombay where he established a free medical clinic for slum-dwellers, and worked as a counterfeiter, smuggler, gunrunner, and street soldier for a branch of the Bombay mafia.  (Apparently, this is all true!)
Recaptured in Germany, Roberts served out his prison sentence there and in Australia, during which time he wrote Shantaram.  Upon his release, he established a multimedia company and is a full-time writer living in Bombay, which now is also called Mumbai.  In the late eighties, I flew into the Bombay airport twice en route to volunteer service as a medical student on a mobile hospital bus in a rural area north of the city.  On planes, it's often easier to watch movies or try to rest than to read.  Maybe I'll have time on the beaches of Maui to start this tale set in India?!
Imagine my right palm raised in greeting to you as we begin our final few days in India.  Although waving our hand in this gesture, or mudra, can mean hello or farewell, if raised in India, hand held still with elbow bent, it bestows the blessing of fearlessness.  So goodnight, sweet dreams, and farewell, dear friends.  And may we all be free from fear!