October 29, 2010
Our Visit to Grace's Birthplace in Diamond Harbour

Are you going to be a coal digger or a pearl diver?
(Mark's question to Grace as we began the journey to her place of birth…)
Grace's response, "It's how I approach the day.  Yesterday, I was a coal miner…"
Dear Friends.
Namaskar.  This is the Bengali greeting which is translated as Namaste in Hindi.  Yesterday was our first full day in Kolkata and it was exhausting on many levels.  Grace's moods and tears seemed to be painful mixtures of overwhelming sadness, anger, and attempts of an almost defensive indifference.  "I hate it here.  I want to go home,  It's awful.  I want to go home, even if it means school." At 10 p.m. last night, after Mr. Das escorted us to the nearby Domino's pizza place that seemed safe enough for our Western digestive systems, Grace again said, "I don't like it here.  It's awful.  I just wish there was something familiar – like downtown Boulder."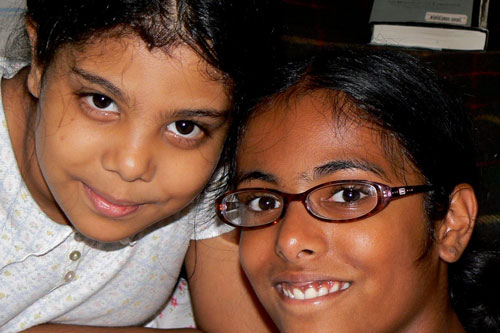 This morning, however, after more sleep and some reflective time talking with Mark, Grace was much more upbeat.  "We've been talking about some mistakes that people make about India.  One is trying to make sense of India.  Another is jumping into trying to help before you've gotten used to it.  You need to know where things are before you can know what's needed."  Grace is also very glad that she has a new ten year old girlfriend, Dhruvi Singh, living upstairs in this bed and breakfast.  The building  is owned by her maternal grandfather, Mr. Singh; five family members live together on the third floor, which has curtains instead of doors between the rooms.
Today held a rather epic adventure for our family.  After early morning chai and our first showers, we ate cereal, scrambled eggs, and toast together before Namita Dey arrived.  Dr. Sen had arranged for her to accompany us on the journey to the rural village called Diamond Harbour where Grace Shanti (initially named Bandana at the Calcutta orphanage) was born in a hospital owned by Dr. Das.  The birthing area of this medical compound in Diamond Harbour is known as a nursing home, as most birthing facilities throughout this area seem to be called.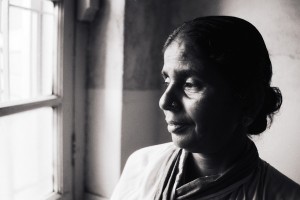 Fortunately, a social worker, Mani Halder, happened to travel to Diamond Harbour for the first time in ten years to find orphaned infants for the International Mission of Hope (IMH) in Calcutta.  During our visit in December of 2000, Mani told us that Bandana and Chandana were only a few days old when she brought them to the orphanage.  Rohima Bibi was one of the two masis who alternated twelve-hour shifts caring for our daughter and her "crib sister".  Our Denver-based adoption agency, Friends of Children of Various Nations (FCVN) had a close relationship with IMH.  Both IMH and FCVN closed their doors several years ago, and Grace's life-long friend, Chandana (Nani) lives nearby in Boulder!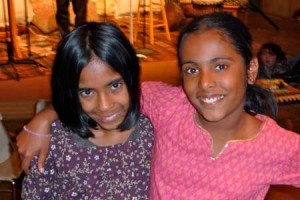 We don't remember having met today's companion, Namita Dey, who worked for twenty years as a nurse at IMH where Grace (Bandana means prayer or worship) and Chandana stayed for their first five months.  Namita continues her nursing work in Madhumita Roy's orphanage after IMH closed about eight years ago.  Frequently on her cell phone, Namita wore sunglasses and a dark red and gold sari.  It was difficult to understand her strong accent, but my new small notebook helped her to record the names and phone numbers that we wanted.
Grace was more light-hearted today, interested in being a more positive "pearl diver" and to see her birthplace in Diamond Harbour. She asked once if we thought we could ever find her birth mother, saying that she had no expectations.  (Apparently no records of the young mothers who leave their infants at nursing homes are kept.)  The back road going south to Diamond Harbour is nearly inconceivable, even while you're on it.  Although much of the road is now paved, it's about one lane wide accommodating several lanes of moving vehicles of every conceivable description.  There are no traffic lights or center lines.  The sensory overload of swarming humanity that occurs here every moment of every day is astonishing and often exhausting.  The resilience and adaptations made in order to survive are humbling.  If over-population of our home planet continues, is scraping out existence amidst wretched chaos the inevitable result?
During my four visits to India, I've never seen a vehicle use a turn signal.  Very small three-wheeled motor rickshaws often have at least eight people stuffed inside. As human, bicycle, and motor rickshaws, cyclists, buses, Indian-made Tata vehicles, cars, and pedestrians weave around each other, there is rarely a collision.  Pedestrians do not seem to change their stride or even glance at honking oncoming traffic.  There are probably implicit rules of engagement known by the locals but the almost casual confidence of the pedestrians is impressive.
Some romantic element of my imagination pictured Grace's birthplace as being on the shore of the Bay of Bengal with sun diamonds sparkling on the sea!  Oh, my!  That image couldn't have been more erroneous!  As we jostled through the chaos, Grace asked, "How do they know when to honk?  I don't know how they take the stress.  The longer the horn, the angrier the drivers are.  It's like a fun roller coaster…This is nerve-wracking!…It's more like (Disney Land's) Space Mountain."
Approach the present with your heart's consent.  Make it a blessed event.  This is a spiritual practice taught by Swami Chidvilasananda, a meditation master whose name means the play of Consciousness.There is much to contemplate, which can be more difficult when the external environment is noisy and unpleasant in many ways.  Thankfully, the air is not always as polluted as it was during our visit ten years ago.  Most cars use diesel, and drivers have begun to turn off their engines when traffic jams look like they'll take more than a few seconds' pause.  The sound pollution of the constant racket along the roadways, however, is very draining to me; I should probably wear earplugs to reduce its volume.  Here is a cacophony of some of the images along our way during our two hour drive to Diamond Harbour: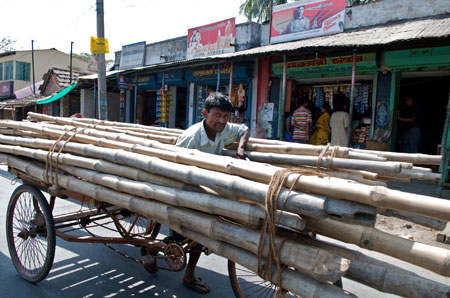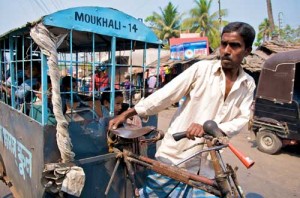 …round lemons and red chilies hanging from a rearview mirror to ward off evil spirits…a bright saffron sari fluttering past large piles of bricks, rubble, and garbage…endless roadside vendors…heaps of tomatoes, cucumbers, ginger, and cabbages…coconut husks hacked off with machetes…a billboard being stretched over a lattice of bamboo lashed together on the ground…a hot pink building trimmed with bright blue and supported by neon yellow columns…small vans crammed with impossible numbers of adults and children…a glass display case featuring American-style children's shoes…young girls in belted, white school uniforms…a man urinating in the shallow ditch…barbers shaving…nylon rope and jars of lentils…the intense smell of fish for sale in the hot dusty sunlight…a plank of wood being hand-shaved with an ancient plane…sugarcane stalks squeezed through metal rollers like old wringer washing machines…nets of soccer balls and a child's plastic rocking chair hanging from rusty corrugated metal roofs…rows of toilets, piles of straw baskets, and plastic buckets for sale…a hot pink sari drying in the sun…the gaunt face of a Muslim elder with a long white beard, white skull cap, and flowing white robes…black goats, yellow dogs, and bony cows foraging…a man naked except for thin white fabric around his waist (lungi?)…another elderly gentleman standing as he reads his newspaper…bales of hay six feet by six feet balanced on the back of a rickety bicycle…a young boy with a baby on his hip…another small boy grinning as he strutted along in bare feet, ragged shorts, and red shirt…hanging packets of soap, cookies and potato chips…electric fans and streams of colorful flower garlands…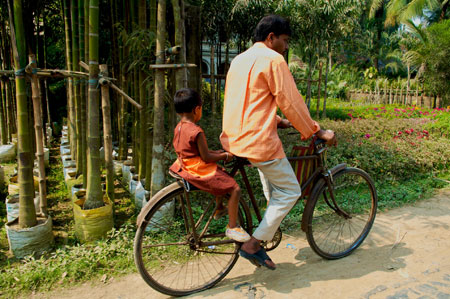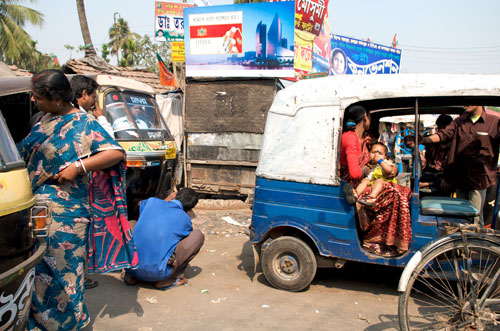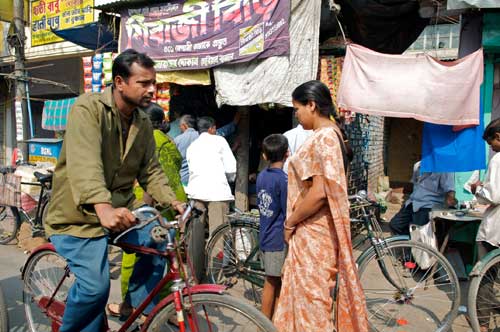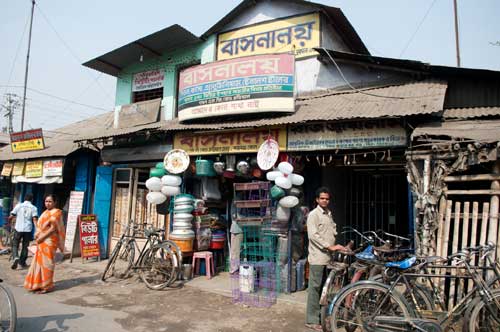 Another Roadside Attraction – Dr. Sen's Rural Medical Clinic
It never ends!  Amazingly, in the midst of all this, we passed Dr. Sen's car at about 9:35 a.m., laughing as we waved at one another!  We had arranged to visit one of his rural clinics which is about thirty minutes drive from Diamond Harbour.  We crossed stretches of cobblestone and patch-work wooden bridges as we passed plant nurseries, rows of young palm trees, and fields of rice.  Soon, our two cars pulled over at the compound where Dr. Sen would be seeing about 200 patients in the next two hours (!).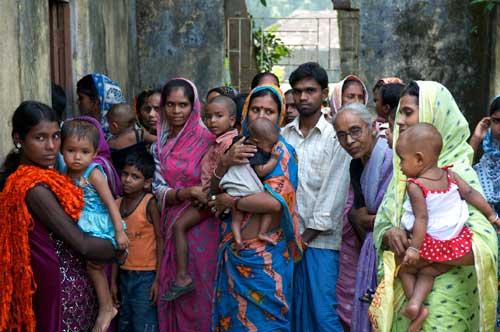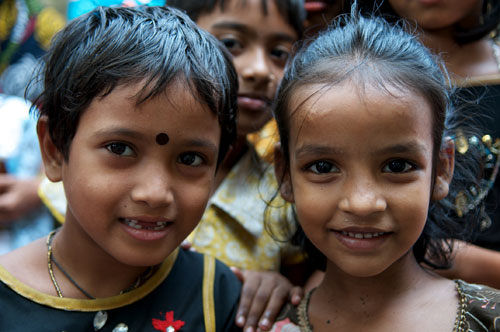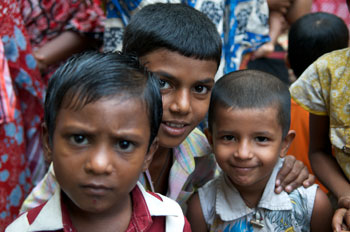 The long colorful queue (line) of patients, mostly women and children, had been waiting for some time.  A group of children gathered with the women who escorted us along the path back to the small room that serves as a temporary medical clinic for a few days each month.  We passed rows of shanties and a pond that Dr. Sen had stocked with fish, which will help to feed this impoverished community.  I'm physically about twice as large as the Indian women staring at us, and am humbled by the infinity of opportunity available to me that seems nearly inaccessible to them.  It's likely that many of these villagers have never seen a Westerner on their home turf.  What thoughts and feelings did they have as a tall white couple with an Indian daughter walked along as guests of their revered Dr. Sen?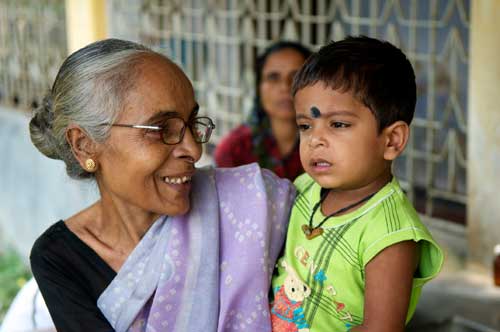 We took many photographs during our clinic visit, although not without discomfort.  Dr. Sen introduced me to a white-haired grandmother raising her infant grandchild whose mother had died in childbirth.  He also lifted the shirt of a young boy to show me his splenectomy scar.  The boy has a genetic blood disease called Thalasemia Major, and Dr. Sen had found donors to pay for the necessary removal of the boy's spleen as well as for ongoing blood transfusions.  His older sister also has inherited the disease.  She was pale due to anemia, and looked about nine years of age although she is seventeen.  We offered some of your donations in a Diwali card to support Dr. Sen's clinics before bidding him farewell.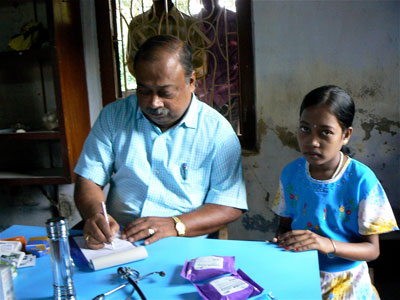 Our nurse translator, Namita Dey, asked if there were facilities for the needs of my small bladder.  A lovely young woman in a sari rushed off to find the key for an old padlock on a low nearby building.  It was dark inside and difficult to see the cobwebs, especially as my vision keeps changing in my mid-fifties!  I was shown a stall with a hole in the floor and tiles on either side to place one's feet.  Of course, there was no toilet paper or tap, but it was a bit of a shock to feel my face sweep through cobwebs as I bent forward.  I was thankful for the presence of this facility and that the old grey concrete floor was relatively clean.  Dirt is one thing; fetid muck another.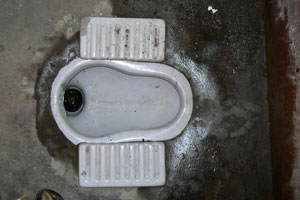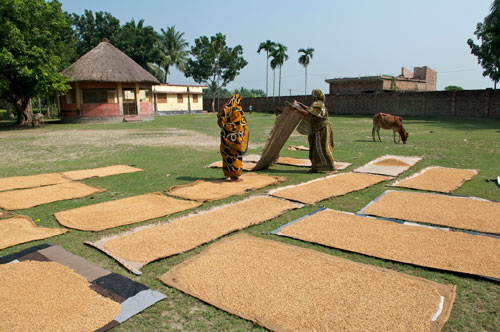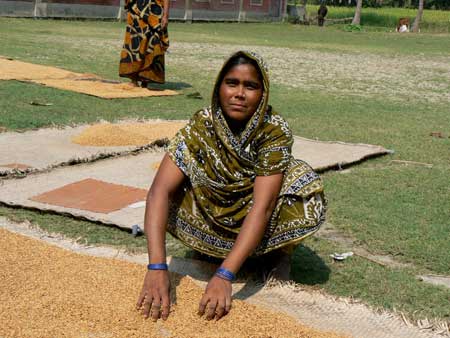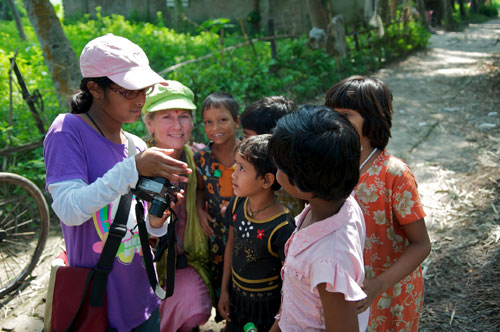 Grace's First Visit Back to the Nursing Home Where She Was Born
On the path back to the main road where Mr. Maity's dark green car was parked, we passed women smoothing out grains of rice with their hands and feet on rectangles of fabric lying on the ground.  Half an hour later, we entered the outskirts of Diamond Harbour.  Looking like the outskirts of Calcutta, my physical eyes saw  neither harbour nor diamonds.  We had not been able to confirm the date of our visit with Dr. Das or his staff, so it took a few minutes for various guards and staff to determine what to do with us.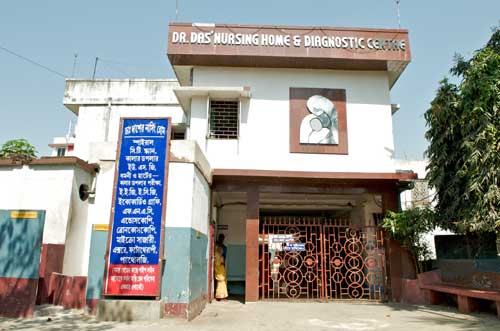 The waiting crowds of patients understandably stared at us, and Grace was deeply affected by the despondent energy that she sensed.  Last year, Mark had visited this nursing home where Grace was born.  As Mark pulled out photos from that visit, he  soon had a crowd of women in blue saris around him.  We think that they are nursing attendants, and some smiled as they recognized themselves or colleagues in Mark's photos.  Eventually we learned that Dr. Das, who is a very busy, well-connected physician in his seventies, had travelled to Bangalore, but that his nephew, Anis Ray Chaudhuri, would meet with us.  We sat on low couches in a small anteroom, clouds gathering over Grace's face.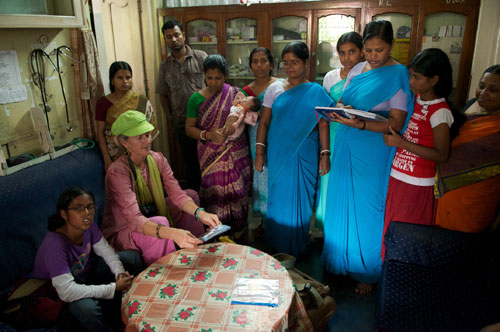 Our host, Mr. Chaudhuri, apologized for keeping us waiting.  He was an elegant, soft-spoken, articulate young man who had been teaching Sanskrit before he was asked to help his uncle run his hospital, which includes a CT scanner and rudimentary surgical suites.  Mr. Chaudhuri showed us the dark rooms where women labor, and then, in a small adjacent room, a swaddled newborn lying next to an exhausted mother curled up on a cot.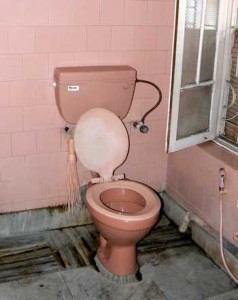 Several members of Dr. Das' family live upstairs, including Anis, his father, and his uncle, Dr. Das.  A very large black and white photograph of Rabindranath Tagore was the main visual feature of the central living room.  Mark remembers that Dr. Das studied with the poet Tagore, who won the Nobel Prize for literature and was a brilliant scholar and artist in multiple fields.  Thankful that there was a (pink!) toilet in their small bathroom, Grace asked me where the toilet paper was.  Although I told her about the practice of using one's hand and then rinsing it from a plastic bucket of water, toilet paper did emerge from my handbag for our use.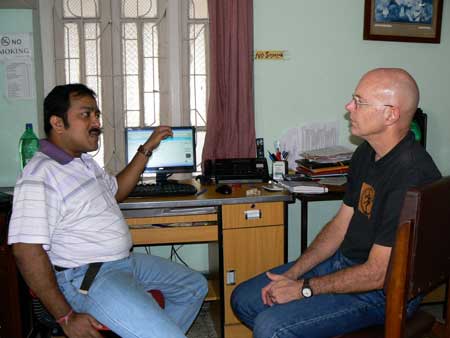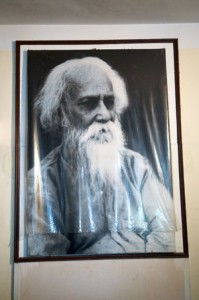 Mark and Mr. Anis Chaudhuri had a fairly lengthy discussion about Goodness To Go and our intent to empower young girls at risk for entering brothels.  Anis spoke about local HIV-AIDS programs, and his family's support of gay rights and reproductive health.  Mark understood from Anis that homosexuality was illegal in India until last year.  Before we left Dr. Das' residence and hospital, I gave Anis the only copy that I had brought of my first poetry collection called In the Presence of Grace. He received it with great respect, recognizing our families' karmic connection through the presence of our beloved daughter.  Anis quietly said that he was honored to receive the book of poems, which was written during Grace's first two years and opens with an exquisite color photograph of infant Grace taken by Mark.
By the time we left Diamond Harbour, it was no longer rush hour on the more direct road north to Calcutta that has two paved lanes with dashed lines down the middle.  The jostling return along this Diamond Harbour Road seemed shorter, and my painful right eye continued tearing copiously due to a corneal abrasion from a grain of dirt blown in the open window earlier.  I removed my contact lenses when we arrived back at Mr. Singh's guest house, thirsty and quite exhausted.
Very graciously, dear Grace expressed to Mr. Singh our concerns about the local water we'd inadvertently been drinking.  When we realized that the refrigerated plastic bottles of water were being refilled with tap water, even though it was probably filtered, we were concerned.  Apparently, Mr. Singh replied,  "Oh, dear".  At this point, Mr. Das went to a local store to purchase us some bottled water, and we walked to a relatively new establishment nearby called Café Coffee Day.  It's part of a local chain which is clean, air-conditioned, and equipped with restrooms.  The frozen frappacino-like drink and samosas revived me, and both Mark and Grace enjoyed their treats.
Our longer route walking back to the guesthouse, which took us along a congested urban stretch of Diamond Harbour Road, was more difficult.  As we looked into small show rooms of wooden furniture where men were doing finishing work in open storefronts, we were stared at as if we were some sort of hallucination.  Grey-brown lumps of curled up bodies slept inches away along the sidewalk.  Deep exhaustion hit again as we arrived back at the guest house, and I fell into the heaviest sleep of my life.  After regaining consciousness, it literally took an hour before I could move my limbs sufficiently to get off the old twin bed in my guesthouse room.  Mark downloaded and backed up photos while Grace played with her new friend, Dhruvi.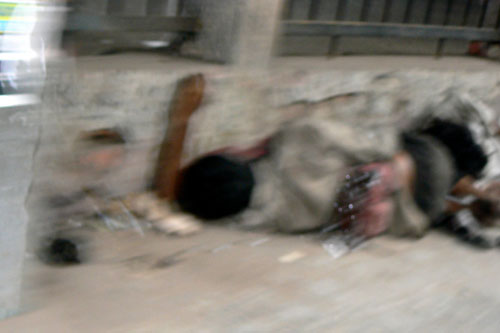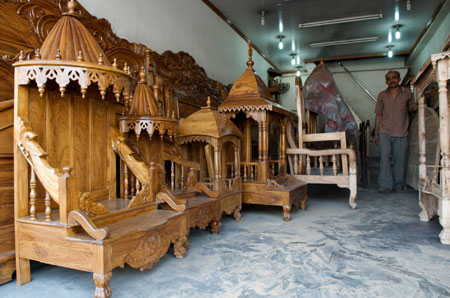 Hours later, Mark and I walked to Domino's again to get a vegetable pizza and drinks to go.  We'd like to figure out how we to find nearby establishments serving Indian food that we feel is safe for us.  At Domino's, big smiles of very white teeth greeted us in recognition, and all laughed as we promised not to make any more messes like the three drinks we'd spilled the night before!  My stomach appreciated being filled with cheese protein, and, revived by sleep and food, I continued writing blog entries until close to midnight.
At 12:50 am, Sue Sherman called (earplugs and loud fan kept me asleep) to inform Mark about the Boulder Canyon forest fire which potentially could have spread to our Om Cottage.  Mark's mother was concerned about how she could get in to save some valuables if need be, and to tell us to create an "item list".  Thankfully, Mark was able to call a fireman friend at work, and he learned that there were no worries about our home burning to the ground, which did happen to more than 160 mountain homes at the beginning of September in nearby Sunshine and Four Mile Canyons.  Mark returned his mother Sue's call to reassure her, and eventually he got back to sleep.  Diving for pearls certainly tired us out today!
Grace notes about our second day in India…
Ate breakfast of eggs and cereal and toast.  Saw Dhruvi off to school.  Namita came with us to Diamond Harbour.  First, we went to Dr. Sen's clinic.  Took pics of kids there.  Went 30 more mins to Diamond Harbour and it is one of the saddest places I have been to – so bare and a lot of sick people.  We met the nephew of Dr. Das (the Dr. who delivered me) and he showed us around but the place wasn't that big.  My parents talked to the nephew and we said thank you and left.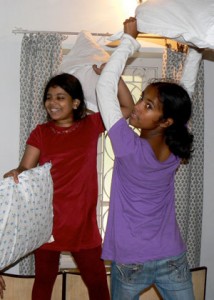 After Diamond Harbour, we came home and Dhruvi and I watched Wizards of Waverly Place (about magic families on the TV upstairs in her apartment). Then Dhruvi and I tried to make a fort in my room of the guest house but that turned into a pillow fight.  Then, we played a board game.  We finally calmed down and watched Wall-e.  (It's getting easier to understand her accent.)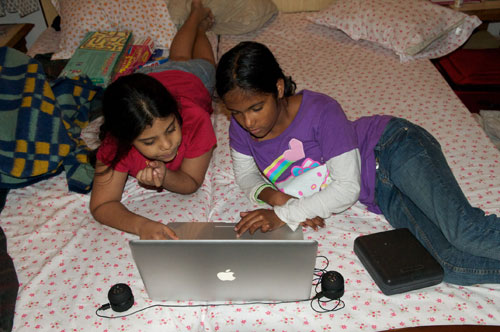 Dhruvi went to her home upstairs and I ate the pizza and drank Sprite that my mom and dad got me.  I did some of my school homework and read.  After I did that, I was kind of tired so I went to bed smiling!  You know, I think…,I think that today was, was the most bestest day of being in India!