November 3, 2010
Calcutta Farewell
Being here is wonderful.
Rainer Maria Rilke     Duineser Elegien VII, 39
"Freedom is a universe of possibility.  And the choice you make, between hating and forgiving, can become the story of your life." Gregory David Roberts
Dear Friends,
It has been a difficult journey on many levels to be able to say that being here in Calcutta is wonderful. With its staggering diversity and splendor, there are many places in Mother India with tremendous aesthetic appeal where it is relatively easy to experience that being here is wonderful. However, being in Calcutta has not been wonderful in the sense of sensory beauty or the lightness of being, at least not without changing the prescription of my glasses.  Alice's wonderland did include disturbing, disorienting experiences that were nevertheless richly infused with wonder.  Challenging adventures matured her strength.
It is humbling to enter the chaos that is Calcutta.  Any illusion or addiction of "being in control" is shredded in its vortex.  Several months ago, a dear friend who has been volunteering her considerable skills with Goodness To Go gave me a book entitled Seven Life Lessons of Chaos – Spiritual Wisdom from the Science of Change. Within research on the change process, the scientific term "chaos" refers to an underlying interconnectedness that exists in apparently random events.  It's been found that "systems that self-organize out of chaos survive only by staying open to a constant flow-thorough of energy and material."  I am committed to being as open as I can be and to experiencing as much interconnectedness as I can in each moment.
There may be a paradoxical order to this seemingly unpredictable chaos. Contradictory names have characterized Calcutta as both the black hole of Calcutta and the city of joy.  Our hearts are challenged to open and hold its paradox.  Thankfully, the goodness to go of many people continues to help those less fortunate to escape the crushing grip of Calcutta's black hole.  Throughout the ages, teachers have reminded us that we need discipline and understanding so that we can hold the experience of the heart opening.  At the same time, discernment is required about what we allow in.  One of Socrates' many insights was thatwisdom begins in wonder. May the seeds of wisdom sprout in this terrible wonder that is Calcutta.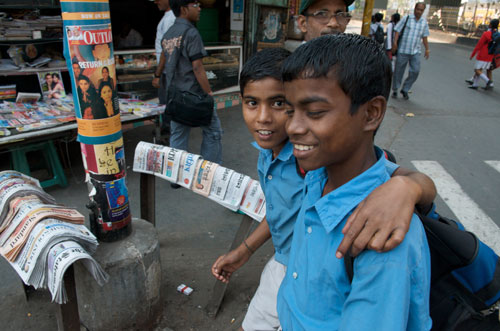 It is a privilege to grow old. I was reminded of this perspective the week before flying half way around the globe in a magazine focused on supporting women through their cancer journey.  The next day, I shared the phrase with some of my patients as another lens through which to view the changes of their aging bodies. It is a privilege to grow old. Many wise and creative people, including the French Impressionist, Paul Cezanne, have encouraged us to constantly question what we see and think about the world and ourselves.In so many ways on so many levels, it is a profound privilege to live to grow old, to have the opportunity to grow mighty with depth and strength and wisdom.
The three of us have had the privilege to grow older during this brief, timeless journey to India.  With hope, relief, gratitude, and wonder, we begin piecing together the puzzle of packing for our return journey that begins at midnight tonight.  We'll be checking in one suitcase less since we'll be giving away 50 goody bags and a large plastic bag of sparkling, multi-colored butterflies later today.   Donated by the owner (thank you, Lisa!) of a Boulder boutique, these beautiful symbols of transformation will be flying into the slum-colony, perhaps to decorate their temple for Diwali.
While we were packing, Dr. Sen stopped by for a farewell visit and to give us Diwali gifts of a box of chocolates and eleven colourful candles.  Mark's packing took much less time, so he returned to the neighborhood colony and applied a new dressing to the boy's leg wound, which is reportedly much improved.  Sanjit translated information about wound care, about taking one antibiotic a day, and that the packet of gauze bandages that Mr. Das had purchased for us were for the boy's use.
Donning my cap and sunglasses, Mark and I strode off into the warm sunny morning through neighbourhoods that were new to me.  We were on our way to the slum of the "firewood girls".  The story is fairly remarkable, and I'll try to keep it short.  Ten years ago, I snapped a photograph of three girls dressed in brown rags with huge bundles of sticks on their heads.  New to Calcutta, we didn't give them money, and have felt uncomfortable about this for a decade.  Last February, Mark set out with the intention of finding these three girls in a city of 15 million souls.  Believe it or not, following one lead after another with only a small snapshot (and destiny?) to direct his course, he found them!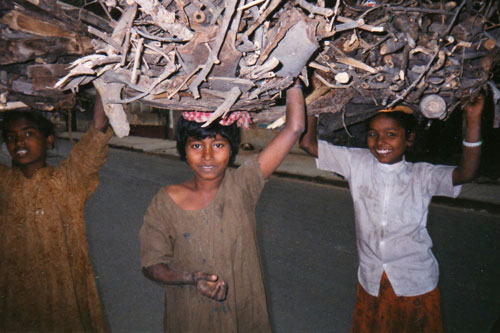 Mark found a way to give each of the young women's families a donation in the open that seemed fair and reasonably safe for all involved.  This year, he wanted to give the young mothers photographs he'd take of them last year.  On the way to this very impoverished slum , we saw the first and only butterfly that we've seen in Calcutta.  A T-shirt said, No past. No future. Just now. Along the railroad tracks, we entered the slum.  Again, we were surrounded by curious children as well as a young man who spoke some English.  When Mark showed them the photos he wanted to distribute, we were led back into the slum.  Thankfully, it did not feel particularly threatening.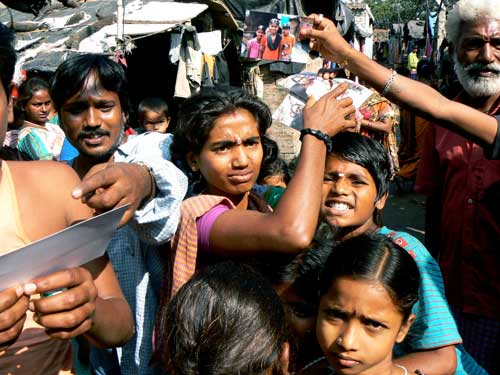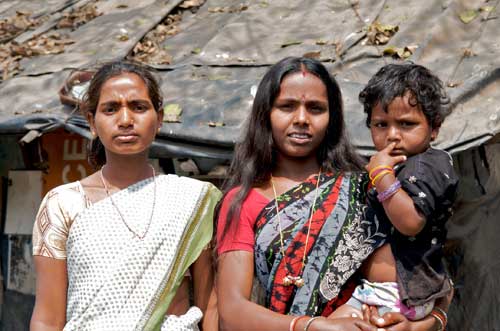 As Mark passed along the photo of a firewood girl holding her young daughter, he learned that the child had been killed on the train track.  After several more intense minutes of relating to and photographing the people, learning that one of the firewood girls had moved away, and sharing photos, Mark and I took our leave.  Retracing our steps past the abandoned train station at Majerhat Westgate and under the bridge with beggars, we stopped at a small outdoor temple.  I offered prayers of gratitude.  Then we returned to the Kwality Bookstore to buy a Harry Potter novel as a thank you gift for Sanjit Roy, the friendly translator from the neighbourhood slum-colony where Mark is now a friend and community benefactor.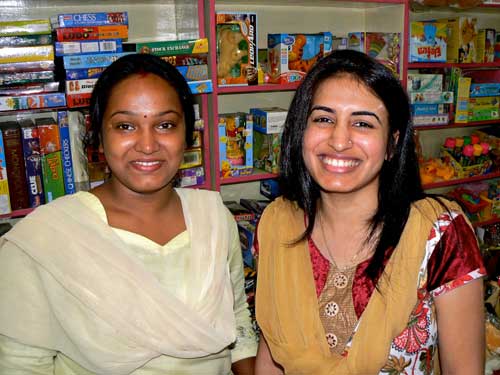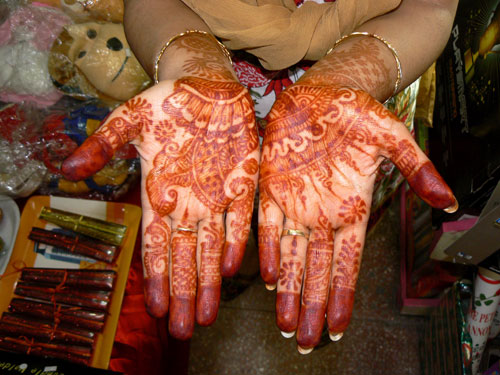 In the bookstore, we enjoyed meeting Veneeta, the owner's 29 year old married daughter, and seeing a shop clerk named Rupali again.  Beautiful, intricate henna designs adorned Veneeta's palms.  I gathered several small Ganesh statues as gifts for my medical assistants and some key rings with the Om symbol while Mark searched for a Harry Potter novel for his friend, Sanjit.  Again we passed Mos' (?) hair and skin salon called Makeover Story, and bought bottled water from the Shubh Lakshmi corner store.  (I now know that Shubh in this context means the auspicious, shining goodness of Lakshmi, the goddess of abundance!)
After a rest period, Mark and I packed the fifty brown goody bags that Grace had decorated over the past few week into bags, as well as the boxes of extra toothbrushes that our generous dentist, Bob Murphy, had donated.  The day before, I had written a letter in response to the colony's request from Mark for a donation for upgrades to their outdoor temple.  Remembering Dr. Chaudhuri's approach that respects the dignity and responsibility of the community, I asked the colony leaders to list the upgrades and repairs needed, and that we would discuss our investment in their colony.
As the three of us walked back toward the neighbourhood slum-colony, I saw the vacant eyes of an elderly woman in a disheveled sari shuffling along.  Then I noticed that she was not wearing the short blouse usually worn under a sari, and that her wrinkled breasts were uncovered.  I sensed that she must be very unwell, especially since this would be humiliating to an Indian woman, who traditionally don't show even their shoulders.
Turning around, I caught up with this elder who appeared so destitute, and with a tender heart held out the red sari I had pulled out of my bag.  "Happy Diwali.  For Diwali", I repeated, trusting that she would understand somehow. When I had packed this sari back in Boulder, I wasn't sure where it was destined to go.  After visiting the local colony, I thought it might be intended to wrap Kali's statue (murti) in their outdoor temple (mandir).  Now I feel that it was meant for this woman.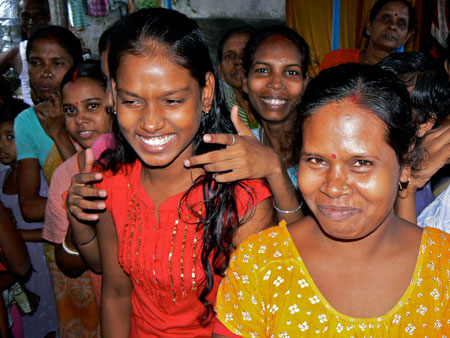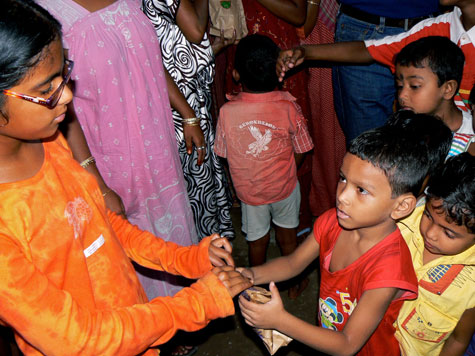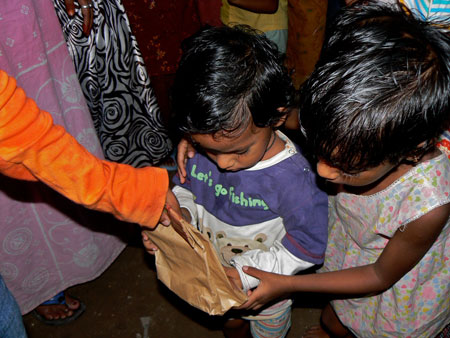 The drama of Grace distributing the fifty goodie bags that she'd decorated and filled was a fairly loud, chaotic, mostly cheerful scene.  The single line disintegrated fairly quickly; when we ran out of goodie bags, we distributed the last of other donations.   Later, Grace said that it was the highlight of the trip for her.  As requested, we received an itemized list of temple repairs, and walked back to our guesthouse.  There, I photographed some of the butterflies that Mark was going to give to the colony leadership when he returned in the evening.  I took these sparkling beauties up onto the guesthouse's flat roof, and watched the sun set over Calcutta.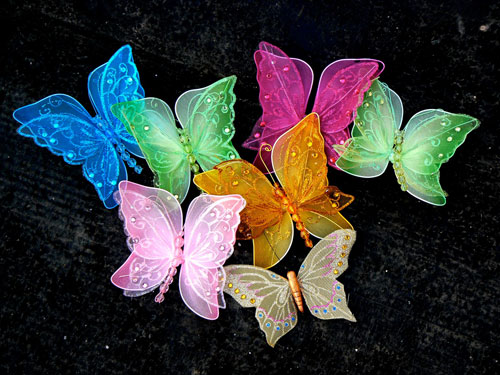 After passing along our community investment of Rs 10,000 (about $240) for the colony's Kali Puja as well as the large bag of butterflies to distribute as the leaders saw fit, Mark gave Sanjit his farewell thank you gift of a Harry Potter fantasy.  We walked to Domino's pizza place for the last time; the music was too loud and we were tired, so we ate the pizza back at our guesthouse after Grace woke from a nap.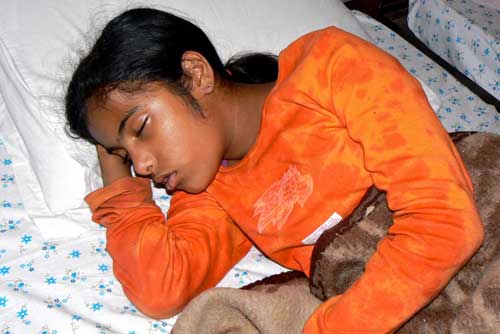 Immediately, she fell back asleep while Mark and I showered.  Gentle Mr. Das, probably with the gratuity we'd given him earlier in the day, asked if he could "present Shanti" with some Diwali gifts in a small brown paper bag.  Since Grace Shanti was sleeping, I thanked him profusely for the sparkling red and blue barrettes, a red plastic hair band with flower designs, and three packets of adhesive bindhis, which are a traditional Indian sign of respect for the sacred.   Mr. Das had noticed that I'd worn one of these red dots between my eyebrows every day I'd been in India, and he pulled out a packet of simpler red bindhis to give to me.
As I continued writing this travel-blog late into the evening, I heard the constant drone of the ceiling fan as well as deep booming sounds of early Diwali.  According to Mark, they're as loud as the well-known (to a certain generation of Americans), golf-ball sized firecrackers known as M80s.  Dhruvi's father (Yuhdrvi?) came downstairs to volunteer the use of his cell phone to check if our flight was on time.  (Apparently, it was.)  He thanked us for the gifts of Hello Kitty napkins and oatmeal bars that we'd left on their stairs saying that Dhruvi will really enjoy them.  With a straightforward, rather serious tone, he added that Grace had been "good company for our daughter".  We were thankful for the healthy distraction that their play offered Grace, and I sense that both girls learned from their brief friendship.
The moon is nearly new.  Amplified street stages for upcoming Diwali music festivities have been criss-crossed with swags of garlands of red and orange flowers.  Our  dependable driver (try as I might throughout the week, including with the local translation of Mr. Das, I could not get across my gratitude for his virtue of being trustworthy and reliable), arrived five minutes early.  We hugged Mr. Das goodbye several times, thanking him repeatedly for his kind service.  This humble, respectful man rarely gets days off from his duties  and is available 24 hours a day as a live-in cook, butler, cleaner, and care-taker for his employer, Mr. Singh.
By midnight, our bags were crammed in the rented cars' trunk and Mr. Das' soft voice said Shanti as his slender, brown forearm reached through the open passenger window, wanting to shake hands in farewell with Grace Shanti.  It was a tender moment of silence.  As we were driven to the airport, Grace softly said, "I miss Mr. Das."  When asked, she said that her favourite thing had been playing with Dhruvi.
In the course of these midnight conversations, Grace also made a comment that I'm sure would make most parents smile.  In her own way, Grace expressed her appreciation for our emphasis on kindness, discipline, gracious manners,  and treating all people with respect.  About our parenting, and the behavior and freedoms that discipline can bring, Grace noted, "Of, course I didn't always like it, but I'm glad you did it!"  I smiled at this remarkable insight from our ten year old!
The roadways on the way to the airport were less congested at this time of night but the air, for me, was especially toxic, so I held my scarf to my nostrils as an additional filter.  Although I love the beautiful heart and soul of this land and its people, the relentless visual ugliness of Calcutta can be quite oppressive.  The early profusion of Diwali preparations provided a rather startling, if not unwelcomed, contrast.  Although we knew that dilapidated buildings were in the shadows, it was a distracting relief to see so many bright, colourful lights adorning the dinginess.