Saturday, October 16, 2010
Dear Friends of Goodness to Go and the Sherman-Hamilton Family,
Welcome to our Goodness To Go blog chronicling the journeys of Dr. Fran Hamilton, Mark Sherman, and our daughter, Grace Shanti Sherman.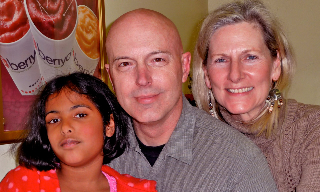 The Launch Before Our Take-Off
In ten days, Grace, Mark, and I fly for the first time as a family to Calcutta, (Kolkata) India. Malaria medication has been purchased and packing has begun. We are launching our Goodness To Go blog tonight because many regard this as an auspicious time to initiate new projects. For the past nine nights of Navaratri, Indians have been celebrating universal creative energy in the form of three goddesses. Tonight is Dasara, a culmination of offerings to Saraswati who represents the power of creation, intelligence, knowledge, inspiration, wisdom, music, and eloquence.
Yes, we have concerns
One prayer offered during the Navaratri celebration says, "O Durga, dispeller of poverty, pain, and fear, your compassionate heart always works for the upliftment of all." She's a mighty force to invoke as we begin this journey. Recently Grace has been acknowledging some of her fears about our upcoming odyssey. Understandably, we're all concerned about mosquito-borne disease, especially since Grace is a mosquito magnet. Dengue fever is at a 20 year high in India, is spreading at an alarming rate, and has no treatment. Malaria is also rampant. Grace is emotionally and energetically a very sensitive being who has a sense of the extreme poverty that she will encounter. These may be some of the reasons that she softly said recently, "Mommy, sure I'd like to see my birthplace…but only for a minute. Then I want to leave."
Last month, when a lovely new friend asked, "Are you excited about going to Calcutta?", I unexpectedly burst into tears. I do find it meaningful
to go to our daughter's extremely challenging hometown and further the learning of how we can support young girls to be empowered in ways that prevent them from going into brothels. However, I am not excitedto expose Grace to dengue fever and the often horrific things that we may experience. We are blessed to live in the beautiful bubble of Boulder, Colorado, and it is important to our family to offer what we can to increase opportunities for vulnerable children who have few resources.
10-26-2010
Denver International Airport
(Aloha!  Due to lack of Internet access within our sphere of Calcutta, this first blog entry is not being sent until November 6, 2010 from Kihei, Maui.  We appreciate your understanding and patience!  Our intent is to send an entry each day for the next week from this stay in Kamaole Sands condo-hotel gifted to us by a generous patient.  Thank you so much, Cina!  Hawai'i is paradise in the Pacific! )
Worry is a waste of the imagination…
Dear friends,
Namaste.  And welcome!  (It's a delight to me that the Sanskrit word for welcome means I have arrived!Living with that understanding, we are truly one heart.)  Today, our family's first adventure of returning together to Grace's birthplace near Calcutta, India begins.  Just now, Mark showed me the good wishes that many of you have written  in response to our email announcing the Internet launch of Goodness To Go.  Thank you kindly; I'm appreciative of this opportunity for us to connect.  So, welcome aboard and let's remember to fasten our seat belts if the going gets rough!
I'm a complete newbie to the world of blogs, and welcome your tips and suggestions.   Although I've been a life-long information junkie, Mark can attest to my severe case of techno-phobia, and many have noted that computers act strangely in my presence!  One friend described me as "definitely analog".  I've written relatively few emails in my life, still don't know how to add attachments or photographs, have rarely accessed, and never surfed, the Internet  Clearly, this has to change!
We're travelling to a place where millions of profoundly resilient, beautiful human beings live in wretched poverty.  Due to centuries of systemic injustice, there are virtually no opportunities available for their creative intelligence to manifest.  I'm  fortunate to have been born into an environment where "an embarrassment of riches" is almost taken for granted.  Our opportunities for education, health, employment, and abilities to change unjust or corrupt systems of inequity are formidable.  How can my good fortune flow in ways that empower and expand opportunities for others, especially girls living in poverty who are at risk of being abandoned, abused, or trafficked?
It seems that relevant messages are everywhere.  A few days ago,  I drove past the sign quoted above reminding me that worry is a waste of time and creative energy.  Hours before that sighting, insomnia offered me the opportunity to finish reading a wonderful novel by Laurens Van der Post called A Story Like the Wind. In it, a wise African elder said to the young protagonist, "The smaller and stiller the voice is within oneself, the more one should listen to them…it's like that with courage, too…There's as much courage as we need, if only we know how to ask for it."
Summoning forth one's inner courage has been an important theme for us lately.  We are thankful indeed for waves of supportive energy that are rising, and although our first plane is late, we'll likely make our Lufthansa Star Alliance connection in Washington.  (Hopefully, the new merger between United and Continental airlines will continue their excellent record with on-times arrivals.)
It's been smooth sailing this morning.  Grace's febrile illness has passed, a golden sunrise lit the crisp autumn morning, and dear Claudia Murray drove us to RTD bus station in downtown Boulder.  Some of the teachings from her Shambhala course last night about the Ashe symbol were shared.  The directness of this calligraphy brush stroke can be a reminder of the inherent clarity and confidence that is accessible for cutting through obstacles and attachments, releasing them into the vast space of pure Consciousness.  This contemplative practice celebrated its 34th anniversary last night, and Claudia suggested that we may want to remember its compassionate strength and release as we encounter suffering in Kolkata.  "Friendliness towards oneself, mercy to others," she added gently.
(Two hours later…)  Grace has been reading and enjoying her window seat vistas, and Mark is finally able to take a nap on this United flight to Washington.  She'd like to watch a video on our sole computer so I'll stop writing soon.  An image that I enjoyed earlier today was Grace standing alone waiting for the DIA terminal train.  On a distinctive pattern of marble flooring, she looked up within the circle of suspended clocks, turning slowly as she looked for a time zone in India.
P.S.  The video she chose to watch just now was the wonderful DVD that Mark created in honor of her 10thbirthday on July 18th this summer.  It was heart-warming to laugh together as we watched her adorable antics and magical maturation as the years flew by in this digital overview of chronological highlights!
10-27-2010
…in a Lufthansa jet approaching Kolkata
Wisdom begins in wonder. Socrates
Grace's notes will be in this bold font.  Here's what she's written in her journal to date, which will be a partial fulfillment of her literacy homework for Susan Donohoe, Grace's wonderful Grade Five teacher at the Boulder Community School of Integrated Studies (BCSIS).
9-20-2010
I am so excited!  My family and I are finally going to India and Hawaii!  We are going to India to learn more about how we are going to start our Goodness To Go "Shanti Sanctuary" thing going.  I am so glad we're going to Hawaii because we are going to need to relax after worrying about Dengue fever, Malaria, and West Nile  Dad's not too crazy about the sea so mom and I are the main beach bums.
We are bringing goody bags for the kids in India and I just can not wait to see their very surprised faces!  I really want to  make a big difference in India, and with everyone's help, I can do just that!
10-27-2010
I am on the last of three plane rides!  When I look out the window, it is an endless sea of twirling clouds.  I am so excited, I am getting jumpy in my seat!  There was this man at the Frankfurt Airport who get people their boarding passes and he upgraded our seats from standard, nothing fancy, to being in business class without any extra charge at all!  So now I get to have real good food and a seat that can turn into a bed.  The flight attendants say that we are getting kind of close.  It is insane how many hours it takes to get to India!  I can't wait!
Dear friends,
At this very moment, our flight's purser (service supervisor), Mr. Sand, sought me out to thank me for a small note of gratitude that I'd written to the flight attendants.  The quality of the food, pristine ironed white linens, warmed moist hand towels, and elegant staff have been exceptional.  (When you're not in a hurry, you notice such things…You're a spiritual person, are you not?, he asked!)  Many thanks, too, to the gentleman who upgraded us to business class from Frankfurt to Kolkata.  Grace has especially enjoyed the extra amenities, including large reclining seats that have a "subtle" massage option, as she said.  There were many complimentary entertainment choices, and after rewatching Toy Story and The Last Airbender, Grace snuggled down with her pink bear, Shanti, wearing a headset, exclaiming, "You guys should listen to the concertos!)
(…a few hours later)  As we climbed down the stairs of the Lufthansa Star Alliance into the humid warmth of India, thin clouds parted briefly, revealing the waning moon that was five days past full.  The air at sea level seemed so thick that Grace said it felt somewhat difficult for her to take a deep breath.  A shuttle bus took us to the old terminal decorated with large paintings of a Bengal tiger and the goddess Saraswati.  We stood in the customs line at the Kolkata international airport  with a young American ballet teacher who had recently married a music teacher from Calcutta; soon, she won't have to stand in lines for those with foreign passports because her marriage to an Indian local will change her status to Person of Indian Origin (PIO).  Even though Grace has a U.S. passport, since she was born in India, PIO is also the status we were to check on her entry form.
Standing with us in this immigration line at the Kolkata airport was Susan Richardson from Philadelphia.  Susan is offering her goodness to go by diving into her first, seven week volunteer time with Noah Levinson and the Calcutta Kids philanthropy that he directs.  Through the grapevine, Susan had connected with Mark in Boulder several months ago, and during their conversation, he suggested that she contact Calcutta Kids.  It's amazing that she happened to be on the same plane that we were!  Noah's father, who has been a rabbi and peace activist, knows our Vermont mediator friends, Ariel Brugger and Greg Hassel.  At my 55thbirthday celebration last April 2nd, we raised over $600 for Calcutta Kids, whose primary mission is prenatal care and infant health from birth to three years of age, which is  a crucial period for brain and immune system development.
The friendly immigration official who stamped our passports smiled as he taught us the Bengali word for being happy (it sounds like shukee).  Thankfully, there were no hassles about our family's various nationalities or any need to pull out Grace's adoption papers.  Then, as Grace and I watched an old conveyor belt for about half an hour to collect our three checked bags, Mark changed U.S dollars for Indian rupees, including $1,100 of your donations to give away.  Thank you again to each one of you who also offered blessings in the form of financial gifts.
We're not sure why our three big bags didn't show up on the conveyor belt.  Eventually, as the crowds collecting their luggage dispersed, I noticed a pile of mostly black bags off to one side.  Wondering if one speck of bright orange peeking out of the heap might be a tag that Mark had recently purchased, I walked over to check.  Yes!  All three of our bags had been grouped together by some mysterious "stranger"!  Surprised and grateful, we walked into the surreal night of India.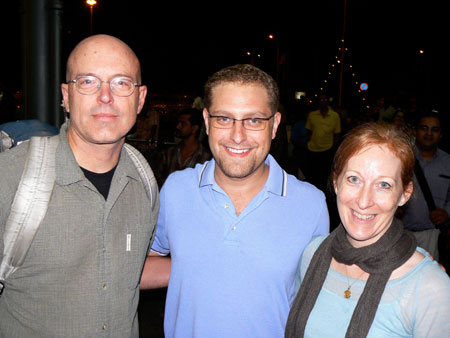 In addition to Noah Levinson, who had a new India-based telephone for Mark, we were warmly welcomed, unexpectedly, by Dr. Sen, with the reliable driver that he'd pre-arranged for our visit.  Mr.  Maity (pronounced Mighty!) will navigate the wildly congested streets of this sprawling, chaotic city until we leave through a blaze of lights and (fire) crackers just before their New Year's Eve.  Dr. Rajat Sen is the deeply kind and generous pediatrician who cared for Grace (aka Bandana) and her crib sister, Chandana, when they were brought to the International Mission of Hope (IMH) as three pound preemies.  He has multiple clinics and medical services that he offers, and I was deeply touched to see him at the airport after midnight when he has an early morning clinic in just a few hours in a rural area near Kolkata .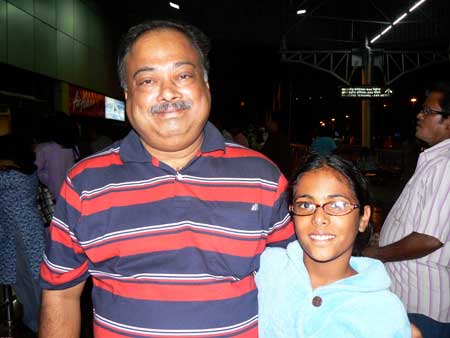 Unlike our first visit to Calcutta a decade ago, we didn't have to go further into the airport parking lot, and so were not surrounded by young, desperate mothers with infants in arms begging for food money.  Existential angst knows that they are everywhere, nevertheless.  Compared to my first visit, there are now some street lights in this inconceivably congested city of 15 million people.  (Imagine driving into NYC in complete darkness at night…)  Although I didn't see as many charcoal cooking fires beside the roads, the endless trash and wild juxtapositions of decrepit structures under huge and flashy billboards advertising new cars and fashions were everywhere.  The plastic–covered heaps along the roadsides were people sleeping; in some ways, it felt like we were speeding between bundles of bodies in forlorn and dusty morgues.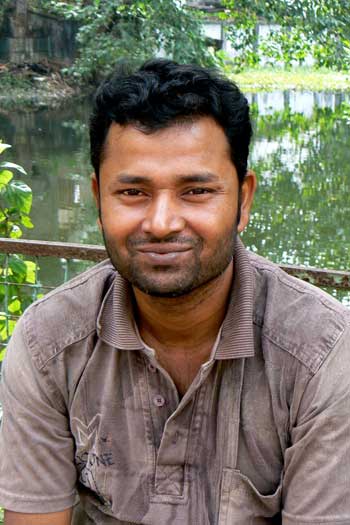 The skills of Dr. Rajat Sen's driver, Mr. Maity, will be essential for this visit to Calcutta; although it was renamed Kolkata several years ago, apparently either spelling is acceptable.  Thankfully, through emails with Mark, Dr. Sen offered to lend Mr. Maity's services, including the car he rents from its owner, for our entire visit.  At the end of our stay, we'll pay for the total time and mileage we've used.  During the 45 minute drive from the airport, Rajat and our family talked and arranged logistics as we were driven through the relatively deserted streets of this city of over 15 million people which used to be the capital city of India.  The cell phone that Noah brought to the airport for us also will be very useful.
At about 1:30 a.m., we arrived at Mr. Singh's small bed and breakfast in the New Alipore district of Kolkata, and were welcomed by gentle, soft-spoken Mr. Achito Das who unlocked a series of gated doors.  I was happy to again meet this dear man from a village six hours by bus north of Calcutta.  Mr. Das has two daughters in their twenties, has escorted Indian IMH infants adopted internationally several times in the past, has cooked for countless visitors to the guesthouse as well as being the "24-7" caretaker of Mr. Singh's household upstairs for decades.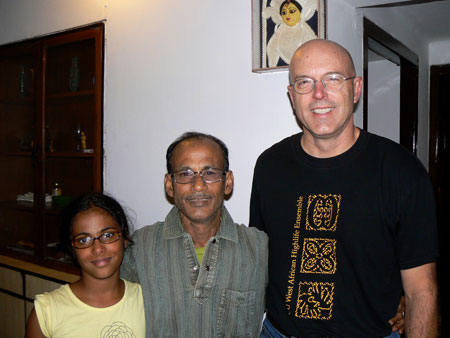 Mr. Das is a small, divorced man whose gentle big heart fed us generously in every way when we were here to get Grace ten years ago.  Mark and I were surprised that he is only fifty years old, and had forgotten that he had also worked in the IMH orphanage in Vietnam for two years.  I have many tender memories of Mr. Das' gentle heart, soft voice, and gracious, attentive kindness.
Although Mark had seen the bathroom renovations last year, including mounted hot water heaters that are turned on for about twenty minutes before a shower, Mr. Das, in his simple shirt, dark shorts, and bare feet, carefully gave me a tour of the upgrades. and how to turn on the ceiling fan, various lights, and each room's air-conditioner (!).  We also went onto the back concrete balcony where he pointed out banana and mango trees growing between the shacks of "very poor people'.
Our rooms had flush toilets and toilet paper, too!  Such heights of luxury are truly appreciated and not ever to be taken for granted.  We think that city tap water is not safe for us, but my jet-lagged brain has already forgotten several times not to wet my toothbrush with it, and have had to clean the brush and start again.  With the help of medications, the three of us in two adjoining rooms eventually went to sleep after 3 a.m. local time (about 2:30 pm mountain time).
There were only small stressors on these first travel days.  I can be rather obsessive about checking and rechecking the location of things like passports, legal documents, and wallets, so the amount of time it took to find my wallet when we unpacked at Mr. Singh's bed and breakfast was uncomfortable.  Also, on the trans-Atlantic flight to Frankfurt, I was confronted by a German man who, understandably was upset when his companion's silver purse with a new i-Pad (still in the packaging from a duty-free shop?) fell out of the overhead bin the moment that I opened it to find Benadryl to help Grace sleep.  I apologized for the mishap and innocent mistake, but it seemed he thought I should pay for it.  The exchange was edgy and upsetting – another opportunity to practice kindness for all involved and acceptance of the situation.